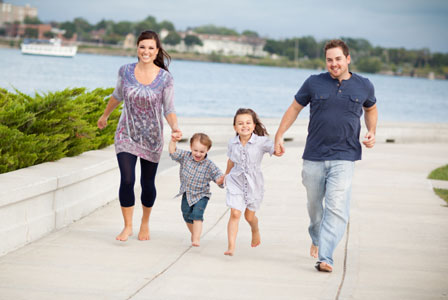 While the words "family fitness" can be dirty words to kids, getting your family moving without the resistance can be fun — especially when they don't realize you're sneaking in exercise!
Sneak in family fitness
From finding fun exercises for children disguised in play, to breaking a sweat and exercising with your kids, discover six ways to trick your family into exercising.
Disguise exercise for children in play
Not all forms of exercise for children have to involve a gym and a personal trainer. "Kids are a lot like adults, if we find activities that they are interested in, and people they love to be around, fitness is very easy," suggests Jeffrey Cumro, Certified Personal Trainer, Better Life Chiropractic and Wellness. Instead of setting time aside for a formal fitness routine, play Frisbee, go bowling or engage in a game of tag. Just be sure not to let the cat out of the bag; let kids think they're just having fun despite the fact that you're actually sneaking in exercise as play.
Make fitness a family affair
It's easy to preach the importance of exercise with kids, but if you really want to see results, your best tactic is to lead by example. "The best way to get children motivated to exercise is two fold: first make sure that you as a parent take time to exercise, then also set aside time to exercise together as a family," suggests Abbie Davies, My First Yoga, LLC. "Children learn by example, and who better to learn from than their parents who they look up to so much."
Choose video games wisely
You don't have to ban your kids from screen time just to get them to get off of their rumps. Games like Nickelodeon Fit by 2K Play for preschoolers focuses on exercises for kids. Or, focus on games like Just Dance 3 that track your "just sweat" points for family fitness fun.
Opt for active activities
Instead of activities that involve lots of downtime like going to the movies, select activities that involve a lot of walking or physical involvement that helps you sneak in family fitness. Destinations such as Disneyland, excursions such as horseback riding or even a dip in the swimming pool will help your children be active without cramming the message of exercise down their throats.
Get competitive juices flowing
There's something about a little friendly competition that makes exercises for children more of a challenge than a chore. "Setting up weekend obstacle courses at neighbors' houses is a great way to encourage exercise and healthy competition," recommends Craig Ramsay, certified personal trainer and co-trainer on BRAVO's Thintervention with Jackie Warner. "At the end of a specific time period (say, eight weeks) each kid gets a fitness statue or certificate of completion for participating."
Reward kids for getting moving
Whether you strap on a S2H REPLAY active activity tracker on your teen, reward them with codes for video games or offer incentives like screen time for taking time for fitness, kids are less likely to resist exercise when there's something tangible in it for them. Set goals and offer different levels of prizes to let them know they are in charge of their own results for a life lesson on staying fit.
"Set the goal to ultimately send your brood the message that exercises for children can be fun"
"At the moment, statistics on childhood obesity show that one in five children is diagnosed with obesity and this trend is increasing, regardless of ethnicity or social status," shares seven-time Olympic Medalist Shannon Miller, Shannonmillerlifestyle.com. "Obese youth are more likely than youth of normal weight to become overweight or obese adults, and therefore more at risk for associated adult health problems." And, while these six ways to trick your family into exercising can help sneak in fitness now, set the goal to ultimately send your brood the message that exercises for children can be fun!
Read more on family fitness
Learn to exercise with your kids
How to raise happy and healthy children
Family fitness: fun ways to play your way into shape
More From SheKnows Explorer