Strolling And Traveling Safely – And With Style
These strollers and car seats not only look good, they keep your little one safe and comfortable in the warm summer weather – and beyond. Stroll and travel with some of the summer's most popular baby gear!
(page 2 of 2)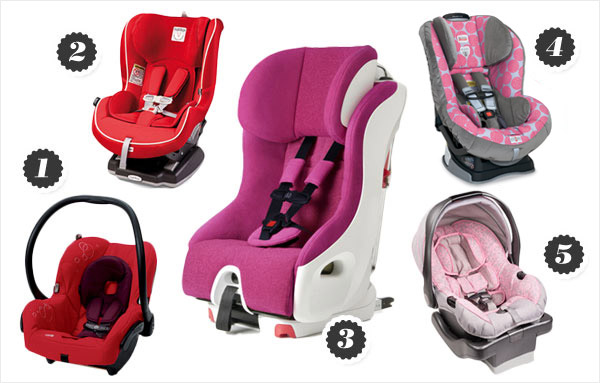 As one of the lightest premium infant car seats, the Maxi-Cosi Mico makes it easy to move through your day. The Mico easily adapts to Maxi-Cosi and Quinny strollers but has the ability to adapt with other strollers as well -- with a separate infant car seat adapter.
Price: $190
Weight range: 5 – 22 pounds
Height range: 19 – 29 inches
Features:
Integrated, adjustable sun canopy is easy to store.
Includes Cozi-Dozi insert for smaller babies.
Ergonomic and adjustable carry handle and built-in side impact protection.
2
Peg-Pérego Convertible
Style, protection and comfort make this new Peg-Pérego Convertible car seat a summer must-have. With a high rear-facing weight limit and easily adjustable 5-point harness with built-in side impact protection, the Peg-Pérego Convertible is one stylish ride.
Price: $380
Rear-facing weight range: 5 – 45 pounds
Forward-facing weight range: 22 – 70 pounds
Features:
Contoured steel base, a shock absorbing element and ESP foam enhances safety while on-the-go.
Quick-release 5-point harness.
Fresco Jersey performance fabric is breathable and comfortable for baby.
The long-awaited Clek Foonf has amazing safety features and an extremely cool style. The smooth recline, stain and bacteria resistant fabrics and integrated magnets to keep the harness out of the way are just some of the favorite parent features – aside from the bright and trendy color options.
Price: $475
Rear-facing weight range: 14 – 45 pounds (six months and up)
Forward-facing weight range: 20 – 65 pounds
Features:
Energy-absorbing foam headrest connects to the frame by steel rods, which provide maximum head protection in a side-impact collision.
Anti-rebound bar in the rear-facing position improves stability and impact protection.
The Ridged-LATCH for the forward-facing mode allows for a slim profile and ensures proper and easy installation.
The brand new Pavilion 70-G3 is just one of five new G3 convertible car seats from Britax, complete with newly upgraded safety features that parents can see for themselves. Knowing that accidents can come from any angle, Britax enhanced the safety and convenience features on their already popular convertible seats to provide children with 360-degree protection.
Price: $340
Rear-facing weight range: 5 – 40 pounds
Forward-facing weight range: 20 – 70 pounds
Features:
Some of the new and improved safety features include integrated Britax HUGS with SafeCell technology, integrated steel bars, a SafeCell technology base and an energy-absorbing Versa-Tether.
EZ-Buckle System keeps the buckle in a convenient, easy-to-reach forward position, making boarding a child faster and simpler.
Click & Safe Snug Harness Indicator is an audible aid to provide assurance of proper harness snugness.
The new and innovative Summer Infant Prodigy infant car seat has all the important features necessary for an infant seat plus the world's first SmartScreen technology making it one of the fastest, easiest and accurate car seats to install. The Prodigy currently holds the highest ease-of-use ratings from the National Highway Traffic Safety Administration.
Price: $180
Weight range: 4 – 32 pounds
Height range: Up to 32 inches
Features:
SafeGuard one-adjust harness tightening system automatically positions the 5-point harness to the correct height for your baby.
Includes a 2-piece newborn head and body support to keep new babies safe and comfortable in the seat.
SmartScreen technology takes the guesswork out of installation.
More baby gear
Convertible car seats: Which one is right for you?
Infant car seats: Which one is right for you?
Best all-terrain strollers