C-Section 101
Having a C-section is first and foremost the birth of your baby, but it's also major surgery. Here's everything you need to know about having a C-section, and how to take care of yourself while taking care of your new baby.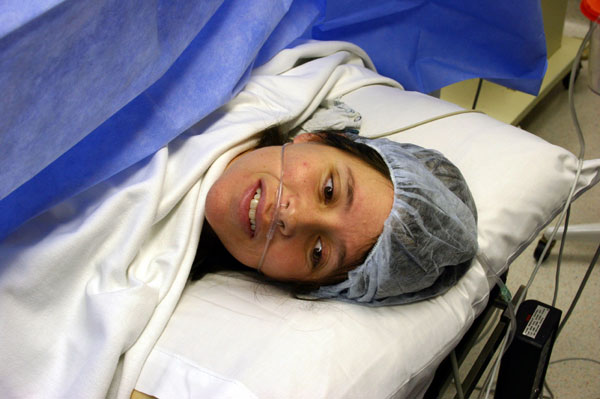 According to the American Congress of Obstetricians and Gynecologists, reasons to have a C-section may include:
Problems with the placenta
Concern for the baby — such as a problem with the umbilical cord or fetal distress
Maternal health conditions such as diabetes or HIV
Maternal infection
A breech baby
Multiple pregnancy
The baby's size
Failure to progress
It's important to ask the reason why you're having a C-section. For example, if it seems like you have a big baby, you may be able to try labor positions like squatting, kneeling or lunging to help open your pelvis and give him more room to rotate and descend.
Also, be sure to talk to your doctor or midwife about the benefits, risks and possible alternatives to having a C-section.
What to expect before and during a C-section
Andrea Kemp, M.D., MPH, maternal fetal medicine specialist at Illinois Masonic Hospital, explains,
"The C-section procedure entails first administering regional anesthesia to numb from the waist down. Once this is done, and a sterile field is formed in the operating room, a skin incision is made to get through the abdominal wall — typically a 'bikini cut' but sometimes, if being done more emergently or if more room is needed to deliver the baby, then a midline incision may be made below the belly button. A separate incision is made through the uterus to deliver the baby."
Unless you need an emergency C-section that requires general anesthesia, your support person can be in the operating room with you.
What to expect immediately after a C-section
Kemp explains, "Once the baby is delivered, and the cord is cut, the infant is passed off to the waiting pediatric team that is usually present for all C-sections. The baby is placed under a warmer and dried off and suctioned to clear the air passages of fluid. Once stabilized, the infant is often wrapped in a blanket and allowed to be at the head of the bed near Mom. If further tests are needed then the infant may be taken immediately to the nursery to be returned to Mom after she has returned to her post-partum room."
What to expect during recovery
"Pain is the biggest issue usually, so adequate pain control is important."
"Pain is the biggest issue usually, so adequate pain control is important," says Kemp. "The medications used are typically safe for breastfeeding so this should not be a reason not to use them. Early walking is important in the healing process and is encouraged. Using a pillow over the incision to help support the area when coughing or sneezing is useful in buffering the pain especially in the first few days after. It is also important to keep the incision clean and dry once the bandages have been removed to aid in the healing process and decrease risk for infection. Avoid heavy lifting or straining that could possibly put too much strain on the incisions."
Read more
C-section recovery tips
Planning a C-section
Recovery after C-section: What you should know