Get close to your kids with acceptance
What's the radical way to parent your tween or teen? Being unconditionally loving and accepting, says Dr. John Duffy, author of The Available Parent: Radical Optimism for Raising Teens and Tweens. That means no lectures, criticizing or getting emotional. Can you do it?
Dr. Duffy follows his own advice in raising his 16-year-old son, whom he describes as admirable. It's all about building a relationship out of optimism rather than fear, he says. Learn more about his approach to raising teens and tweens below.
What inspired you to write about being an available parent?
Dr. John Duffy: I was inspired to write a book by some of the teenagers that I worked with. They suggested that their lack of emotional availability to their parents is due, at least in part, to their parents' lack of emotional availability to them. I heard this frequently, and from enough different teenagers, to believe it. Once I found myself repeating the same themes over and over again to different parents, the book became all but inevitable.
Stay in touch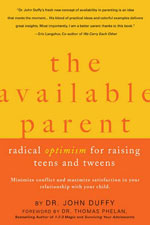 In your book, The Available Parent, you write that a parent's top priority should be staying in touch with their kids. How do you do that with moody and distant tweens and teens?
Dr. Duffy: I encourage parents to take advantage of any opportunity they might have to connect with their children, as moody as they might be. Most teenagers I work with typically have a time of day when they're most vulnerable, or regressive. Take advantage of those times to connect. The worst time to connect is in the midst of conflict.
I use the word "availability" very deliberately. Though your kids may choose not to communicate with you too frequently, you need to let them know that you're available to connect with them.
Lose the ego
Can you explain how "availability" is the ability to understand your child's need to pull away?
Dr. Duffy: I define "availability" as parenting free of judgment, fear, and especially ego. If we're free of these negative influences, we can recognize that an important part of parenting is the ability to let go and allow our children to explore their world. However, if our parental fear, judgment and ego take center stage, we tend to rob our children of their ability to prove themselves smart, capable and competent to themselves.
What do you think parents today need to work on when it comes to relating with their kids?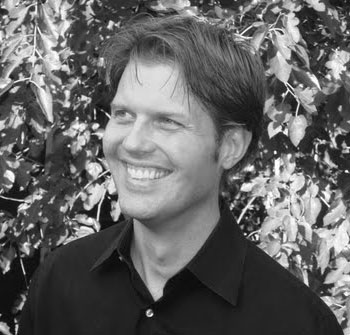 Dr. Duffy: Too often today, parents focus on the negatives with their children. They focus on the wrong crowd their child is hanging out with, the grade they disapprove of, the style of dress they frown upon, and so on. Though this is all part of parenting, it can't be the primary part of parenting. Parenting, especially parenting teenagers, requires a strong, positive connection. This means more positive interaction with your children than negative.
Enjoying our kids, having fun with them, fosters the most effective parenting. If we're available to our children in this way, they're more likely to listen to us. As available parents, we're not the unwitting, ineffectual enemies. We're always there for our kids as guides and consultants.
Hey, Moms
How do you try to make yourself more available to your children? Would your kids say that you're always there for them? Share your thoughts and stories in Comments below.
Read more on relating to teens and tweens
Parenting Guru: Do you blow off your kids?
How to talk to teenagers
Parenting Guru: Are you an empowered parent?