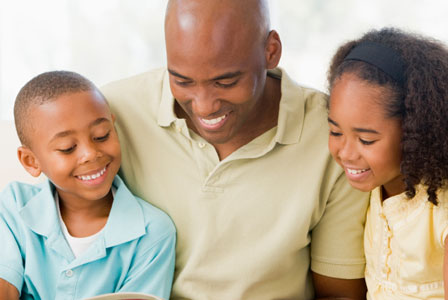 More and more studies are showing that dads who read are making a big impact on their kids — not only reading out loud to them at bedtime and listening to them read, but also by being a good example and reading books themselves too.
Pass off reading duty to dad
Here's what the experts say about why you should pass bedtime reading duty over to Dad a few nights a week... if you aren't already!
A read aloud dad
When you talk about turning to an expert in how to teach children to love reading, there is no better person to turn to than Jim Trelease. Author of The Read-Aloud Handbook, Trelease says that fathers reading out loud to their children is an integral part of their reading success, particularly when it comes to boys. According to Trelease, boys who were read to by their fathers "scored significantly higher in their reading achievement."
For girls, who traditionally score higher than their male counterparts in reading, the value of having Dad read to them on a regular basis comes down to quality time and the proof is in the pudding. When this father challenged his fourth-grade daughter to see how many nights in a row they could read aloud together, the results were not only beneficial to Alice's reading skills (she graduated at the top of her class and has gone on to become an author herself!), but they shared time together, every single night, creating a lifetime of memories and building their relationship.
Role model reading dads
Beyond spending that one-on-one time reading to their kids, the next best thing a dad can do to impact his children's life as a reader is to crack open a book himself! Both moms and dads know firsthand how much their kids pick up from them — it's amazing how quickly a child can start to replicate the habits of their parents (both good and bad!) — and seeing Dad make reading a priority makes a big impression.
Studies done at the BYU School of Education indicate that part of the problem, when it comes to the lack of progression in boys' reading achievement in the past 40 years, comes down to reading not being cool. Boys are given the impression that reading is only for girls to enjoy, marking it as a "feminine" activity.
The best cure? Seeing Dad putting his own reading skills to use! Co-Founder and CEO of Goodreads, Otis Chandler, who is a dad to a sweet 14-month-old himself, tells us that he makes reading a priority to engage his daughter in books. "If they only see Mom reading, they start to think it's a girly activity, which is definitely not the case. It's great to see her interested in books already, and I can't wait to get to picture stories and then chapter books as she grows."
On dad's must-read list
Kick-start Dad's bedtime story sessions with some great new books! According to Goodreads, these are books that are rated tops by dads who love to read to their kids.
More on dads
Baby names dads will love
5 Hot celebrity dads
Don't mess with Dad