Olympic Athletes Who Are Also Moms
The London 2012 Olympic Games are set to begin on Friday, July 27, 2012. Many of the women who are participating in the Summer Games are more than athletes, they are also moms. Let's learn a little more about three such women — members of Team USA, Christie Rampone, Kerri Walsh and LaShinda Demus.
(page 2 of 3)
Kerri Walsh
Team USA Volleyball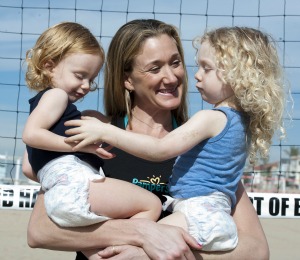 Kerri Walsh is one of the most famous volleyball players in the world. The 2012 Summer Games are the fourth Olympics for Walsh, who has two gold medals. Walsh isn't just an Olympian — she's also a mother of two.
"I have realized that I need a lot more help — it takes a village. Our boys are really reasonable and they travel the world like champs. My husband is also an amazing husband and father. This helps immensely to keep our family close. I want to teach my kids to chase their dreams and they can learn so much by being vulnerable and challenging themselves. Being a mother was my ultimate dream and being able to go after my third gold medal with them behind me is the best feeling in the world. Pampers [Walsh is sponsored by the company] is such a beautiful brand and they make babies and families lives more special and wonderful. My partnership is a family partnership which is so special to me; it's not just me anymore, I am a working mom. The spirit of play of my children is just beautiful."
Next up: Meet Olympian and mom, LaShinda Demus >>