Olympic fun facts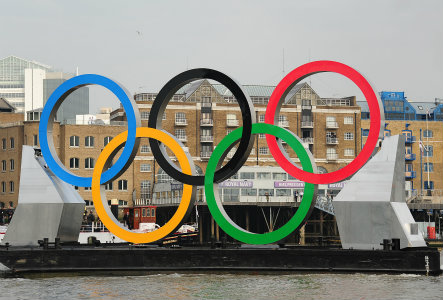 Do you know the meaning of the Olympic rings or why they are different colors? Which country has the most Summer Games medals? Did you know that the gold medals aren't actually made of gold?
Get to know the Olympics
Your kids will love these fun facts about the Olympics and so will you!
The U.S. leads the Summer Olympics in medals, holding nearly 2,200! Think we can continue to hold that record in the Summer 2012 Games? Keep count with your kids as the medals roll in!
Everyone knows the Olympic rings, but do you know what they're for? Each ring represents a different region of the world and each ring is colored to represent the flags of the nations in that region.
The Olympic Winter Games have only been held in the Northern Hemisphere. No skiing in South Africa, apparently.
Only four athletes in the history of the Olympics have won medals in both the Winter and Summer Games and one of those was an American! Eddie Eagan won the gold metal in Antwerp in 1920 for boxing and another gold metal in Lake Placid in 1932 for the bobsleigh.
The Olympic gold medals haven't been made out of solid gold since 1912. They must, however, be plated with six grams of gold, but the rest of the composites in the medals are left up to the host city to determine. The silver medals also have strict composition requirements.
London, where this year's Summer Games will be held, was host to the first Olympic Opening Ceremonies in 1908.
In 1960, Walt Disney was the head of the committee for the Olympic Opening Ceremonies, held in Squaw Valley, California, near Lake Tahoe. Can you even imagine what a magical ceremony that would have been?
Women were not allowed to compete in the Olympic Games until 1900 and we've been holding our own ever since!
Marathon runners will love to know that the extra 0.2 miles at the end of a marathon was originated at the Olympics. In 1908, the Olympics were being held in London and the organizers tacked on another 385 yards to the already established 26-mile run to make sure the Royal Family could properly see the finish line.
For the 1900 Olympics, held in Paris, winners were given paintings instead of medals, which the French believed were far more valuable.
Images: WENN
Read more on the Olympics
From the Olympics to motherhood
Throw a 2012 Olympics party for kids
Ryan Seacrest and NBC family team up for Olympic gold