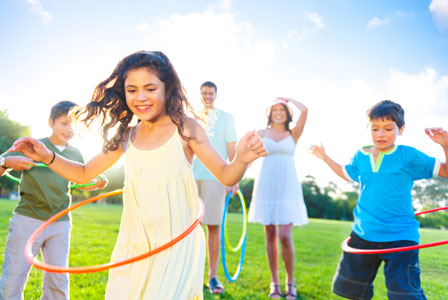 This summer, get your kids and their friends together for a fun field day in the back yard. Make prizes and organize games that encourage teamwork and physical fitness.
Get kids moving
Want to host your very own summer Olympic games? Invite young athletes and their young-at-heart parents to your backyard for a fun fitness challenge that embraces the spirit of teamwork.
Spread the word
Set a date and begin your public relations campaign for the Backyard Games. Ask your children to pick several friends to attend. Invite parents as well, so every young athlete has a cheerleader or two. Save money and go eco-friendly with online invitations. Since you'll be doing the organizing and decorating, ask parents to bring refreshments for a potluck lunch and on-the-go hydration. In your invitations, invite parents to suggest specific sports their children would enjoy participating in. Check in with everyone a week before your Backyard Games to get a final count for prizes and sports gear.
More backyard fun
Summer fun: 20 Outdoor family activities
Small backyard fun, toddler style
Backyard barbecue decor