Celebrity Baby
Bump Watch
Happy Wednesday Hump Day — also known to us as Celebrity Baby Bump Day! We have plenty in store for you on this 4th of July holiday bump day edition. Singer Adele surprised us all when she announced she was pregnant, as did Anna Paquin when she revealed she is pregnant with twins! Just when we thought Kourtney Kardashian's baby bump couldn't get any bigger – it did! She still looks amazing (and we are a tad jealous). A pregnant Snooki and Kelsey Grammer's pregnant wife, Kayte Walsh, round out our list of cute pregnant celebrities of the week.
(page 4 of 5)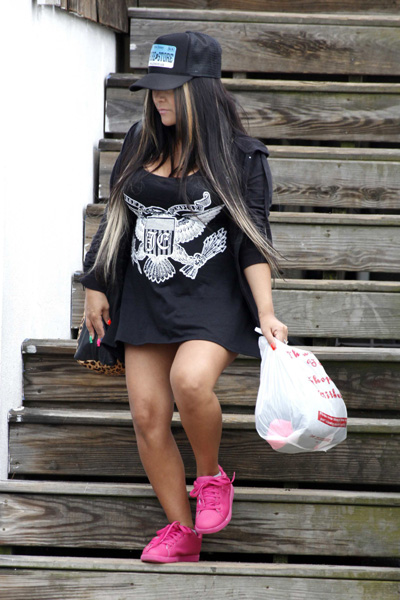 Snooki
Jersey Shore star Snooki dressed her baby bump in a black graphic tee paired with bright pink sneakers as she was filming scenes for her new reality show. The reality star is not one to be shy about her pregnancy quirks, and recently revealed that she hates her pregnancy boobs!
"I actually want a big belly now, so I don't mind having brownies or fries," she said. "The only thing is, I've also gone up a cup size: I'm a D now. I just hate my boobs so much!"
Even though Snooki has curbed her hard partying ways during her pregnancy, it sounds like she may pick it right back up again once baby Guido is born.
"If we're hungover or if we've had two drinks, we're not going near the kid. We'll give him to Grandma. God forbid we drop our baby!" she said.
Next up:  Kelsey Grammer and his pregnant wife Kayte Walsh