Celebrity Baby
Bump Watch
Happy Wednesday Hump Day — also known to us as Celebrity Baby Bump Day! We have plenty in store for you on this 4th of July holiday bump day edition. Singer Adele surprised us all when she announced she was pregnant, as did Anna Paquin when she revealed she is pregnant with twins! Just when we thought Kourtney Kardashian's baby bump couldn't get any bigger – it did! She still looks amazing (and we are a tad jealous). A pregnant Snooki and Kelsey Grammer's pregnant wife, Kayte Walsh, round out our list of cute pregnant celebrities of the week.
(page 3 of 5)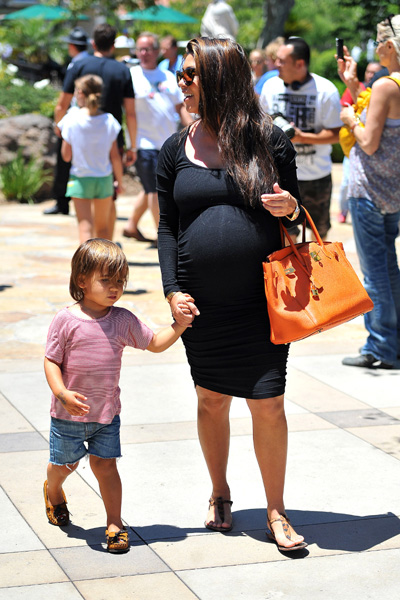 Kourtney Kardashian
Even though Kourtney Kardashian could literally give birth at any moment, she still manages to look glowing and gorgeous in a black bump-hugging gown as she and her son, Mason Dash, go to a Calabasas baby boutique. She has quit wearing her usual high heels and has switched to chic sandals and we love how her orange bag gives her a pop of color.
The reality star and her baby daddy, Scott Disick, have been arguing over whether they should get married now that they will have two children together. "The whole reason I had another kid with you is because you agreed to get married," Disick told her on Keeping Up with the Kardashians. "You broke the contract — you broke the deal."
"I know that I'm indecisive but I'm not indecisive with you. I'm obviously committed to us," she told him.
Tell us: Do you think they should get married?
Next up: Snooki's growing baby bump