When letting go doesn't come easily
Parenting has proven to be an exercise in learning to let go one step at a time. I've tried to handle it with grace, but as my daughter prepares for kindergarten this fall and I find myself struggling more than I anticipated, her little girl wisdom has given me hope.
A conversation in the dark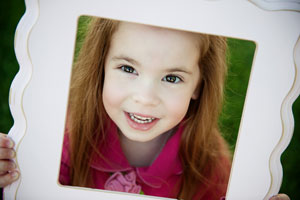 There's something magical about lying in bed in the stillness of the evening that helps to loosen the words that we bury during the daytime.
There in the semi-darkness, as we closed out the day yesterday, I held my daughter's 5-year-old hand in mine and I asked her, "How do you feel about starting kindergarten this fall?" hoping her answer would differ from mine.
Katie's fingers began to flutter before her words even came. "So excited!" she replied without hesitation.
And with all my heart, I wished I could match her enthusiasm.
"What are you most looking forward to?" I asked, hoping she would quickly list something that would make the tightness in my chest give way.
"I'm excited to make new friends, play on that really big slide on the playground and learn French!"
My heart leaped a bit at the thought of her learning French, a language that I love. I was immediately transported back to my own childhood, when I spent hours in my grandmother's kitchen, listening to her alternately speak and sing in French.
The gift of words
She quickly added, "Mommy, will you teach me some French words? How do you count?"
I haven't spoken French since college, but there in the stillness of her bed, I closed my eyes and the numbers came back — they slid right off my tongue and floated through the air to her eager ears.
"Un, deux, trois, quatre, cinq… " I counted.
Once we finished with counting and the alphabet, eager for more, she moved on to animals and colors and my memory got a workout as I dug deep to unearth my college-level French.
Her curiosity and eagerness pulled me from my own sadness, into her world… a world of new adventures to conquer and experiences to live to their fullest.
I've been seeing kindergarten as an end… the end to our days together, to the freedom to spend our moments however we choose.
A shift in perspective
With numbers, letters, colors and a handful of animals under her belt, Katie grew still and I wondered where her thoughts had taken her.
She broke the silence with, "How do I say 'I love you'?"
I've been focused on the ways in which kindergarten will rob us of the things that I hold so dear, but laying there in the dark, my 5-year-old helped me to begin to see that the world will be opening to her in a way that I haven't been able to appreciate.
She broke the silence with, "How do I say 'I love you'?"
And in that moment, I could feel that tightness that I've been carrying in my chest ease as my heart expanded.
"Je t'aime, my sweet girl."
And merci beaucoup… a million times over.
More on learning to let go
Monday Mom challenge: Let go a little. Or a lot.
Practicing Gratitude: Letting your children explore
Nurturing independence at any age