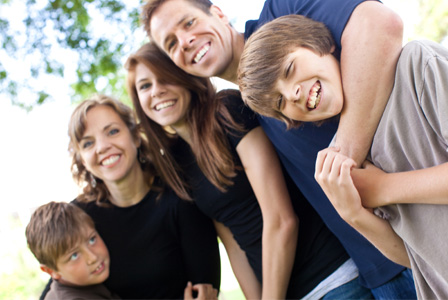 Not everyone's lucky enough to travel to London for the Summer Olympic Games, but that doesn't mean you can't enjoy the fun at home! Round up your family and friends and use these tips to stage your own version of the games.
Encourage a little friendly competition
Recruit the athletes
There's no reason why you can't host an intimate version of the Summer Olympic Games involving only your immediate family, but part of the excitement of the games is that so many countries are involved. Make your home-based competitions more fun by recruiting family, neighbors and friends to join in the fun. Before you make formal invitations, think about where you plan to host your games, how much room you'll have and how many participants you can comfortably include. Once you know how many people you'd like to involve, choose the date and make sports-themed invitations to the event.
Form teams
Even athletes involved in individual sports are ultimately part of a team, so make sure you create teams during your home-based events. If you're inviting several families to participate, have each family work together, or split them up so that parents square off against kids or boys square off against girls.
If you're not inviting family groups, and you're inviting a bunch of individuals, number off participants as they arrive to randomly assign each athlete to a team. Teams can be as big or small as you'd like, but two to five participants per team is a good number to shoot for.
Prepare for the games
Once teams are formed, give them some time to come up with a team name, mascot and flag. You can keep things traditional and have each team represent a specific country, or you can get creative and let teams make up their own ideas. This is also a great time to allow teams to make uniforms, decorate posterboard with their flag and name, and prepare for the fanfare of the "opening ceremonies." Pass out plain white T-shirts, posterboard, fabric paints and other craft supplies for decoration.
Once all the teams are ready, parade in groups to the location of the events. Consider stuffing an empty paper towel tube with red and yellow tissue paper to make a "torch" that you'll keep burning throughout the games.
Enjoy the events
The Summer Olympic Games include track and field, swimming, gymnastics, basketball, weight lifting and so much more! While you may not be able to host these events in the traditional sense, you can alter them to make them new and exciting. Here are just a few ideas for the ultimate summer games:
Synchronized menning: Synchronized swimming is one of the only events that is officially women-only, but that doesn't mean you can't open it up to guys in your own version of the games! Have each team's men come up with a synchronized dance, cheer or swim.
Silly relays: You don't have to have speed demons on your team to win this type of relay event! Choose fun relay race ideas that test a little bit of athletic prowess, while still keeping things silly. For instance, have athletes do cartwheels, hop on one foot, team up for three-legged races or crab-walk during each leg of the relay.
Field games: Mimicking field sports is pretty easy to do with a few simple tools. Set up a discus event using paper plates or Frisbees. Do shot put with a tennis ball. Skip the approach for the long jump, and see how far each athlete can jump (and land on their feet!) from a standing position.
Hoop it up: Feel free to host a full-on three-on-three tournament as part of your games, but athletes may actually enjoy a rousing game of H-O-R-S-E, 21 or a free-throw shooting contest instead. This is especially true if you have participants with a wide array of ages.
Skateboard rowing: Round up a few skateboards and broom sticks in advance of the games if you want to try skateboard rowing. For this event, a designated athlete sits on top of a skateboard, feet off the ground, and uses only the broom stick to help propel herself across a designated space as she races against the other athletes.
Water balloon volleyball: The rules of this game of volleyball are pretty similar to the real thing, but instead of hitting a ball back and forth across the net, participants use towels to catch and throw water balloons back and forth. The first team to have five balloons burst on their side of the net loses the match!
Don't forget the awards!
Finish up your fun-filled day with snacks, drinks and an awards ceremony. Pass out medals to winning participants and make up your own special awards for the day, like an award for the "Funniest Moment," "Biggest Wipeout" or "Most Team Spirit."
Discover more ways to celebrate the summer games
5 Pinterest crafts to celebrate the summer games
Fun ways to watch the summer games with your daughter
Make your own medals out of paper