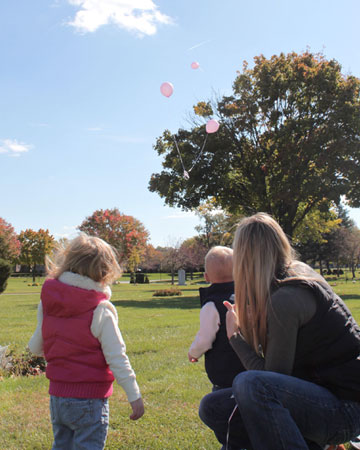 Thankful for every moment
There's no denying that it's easier to feel gratitude when life goes smoothly. But when life hands you unspeakable heartache, how do you go on to be grateful for anything? Jessica Watson's story is a beautiful example of putting one foot in front of the other and finding joy again.
SheKnows author Jessica Watson and her husband Mark thought the road to a house full of children would be effortless. With a daughter from a previous relationship, Jessica assumed she'd easily get pregnant again. They were ready to add to the family before their honeymoon was over.
Struggles with infertility
Two years, and many rounds of fertility treatment later, they were shocked to find themselves pregnant with triplets after a successful round of IVF. "I was excited, scared and overwhelmed with happiness all at once. We tried for so long that three at once was more than we could ask for." Pushing aside fears of a high-risk pregnancy, they remained hopeful that, after so many years of trying, their babies would enter the world healthy.
By Jessica's 18th week of pregnancy, premature labor threatened. She was admitted to the hospital, administered medication to stop contractions and kept on strict hospital bedrest for the remainder of her pregnancy. After 10 weeks, Jessica's labor could no longer be stopped and she delivered her triplets, two girls and a boy, at 28 weeks and 5 days gestation. Jessica says of that day: "I thought that they would be OK despite their prematurity. There was no way we had made it through infertility and bedrest only to have more complications. I knew we were in for a long NICU stay but I thought I was prepared."
Premature birth and three sweet babies
McKenna, Parker and Hadley were born weighing between 1 pound, 14 ounces and 2 pounds, 10 ounces and were all doing as well as possible. The next few days passed with a blur of learning NICU terminology, moving from baby to baby to baby and dreaming about the future.
On the triplet's third day of life, the Watson's were called to the NICU because Hadley was having trouble. "When we got there, her incubator was surrounded by white coats. She was on countless machines and as soon as we arrived they offered to let me hold her." They held on and soaked up their baby girl as she slowly lost her battle for life. Hadley had suffered a pulmonary hemorrhage and her tiny body couldn't recover from the blood loss. "I knew the moment she was gone," Watson says, "I saw it in her eyes and was devastated to have to hand her over to her Daddy knowing she was no longer with us."
Grief transformed into joy
More than four years have passed since that awful day, but the Watsons have found a way to live each day with purpose. They appreciate their surviving children more than they thought imaginable and see each day as a gift. Although the journey through heart-wrenching grief hasn't been easy, they've found a way to transform it into gratitude for what they do have.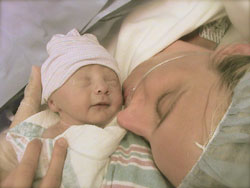 Within a year of losing Hadley, Jessica was unexpectedly pregnant again and adding one more transformed their home into "a noisy, messy, amazing place." Losing a child is that unimaginable event that no parent wants to think could ever happen. Watson's oldest daughter has autism, one of her surviving triplets has health complications and her boys are typical, thriving little guys. When asked how she manages such a busy house and copes with her grief, Jessica says, "the noise and the appointments and the rush of every day aren't always full of sunshine and roses but I wouldn't have it any other way. For me, the chaos of it all is life and I try my best to embrace it all."
One foot in front of the other
"One foot in front of the other until the days got a little bit easier... "
Looking back, Jessica reflects on how she made it through such devastation and was able to smile again: "After the triplets were born I was extremely weak from months on bedrest and recovering from a C-section. I remember looking down the long hallway to get to the NICU and telling myself I just needed to put one foot in front of the other to reach my babies. That has become a metaphor for life and living through grief for me. One foot in front of the other until the days got a little bit easier and before I knew it I was bending down to pick up my babies, lifting toddlers in the air and throwing dance parties on the couch with 4-year-olds, grateful for every bittersweet moment of it all."
More about gratitude
Practicing Gratitude: When gratitude doesn't come easily
8 Ways to show gratitude
Rocky road and rainbows: Losing a father and appreciating life