How I juggle my career and raisE four kids
Liana Rodriggs, 40, of Houston, Texas, followed her passion and pursued her dream career of working for NASA where she helps develop technology for space exploration. When Liana's not with her team in the space suit and crew survival systems branch, she's busy with her other troop — husband Michael, a NASA engineer, and their four sons, ages 7, 11, 13 and 15. Learn how Liana juggles working at NASA and motherhood.
"My mom story"
by Liana Rodriggs
as told to Julie Weingarden Dubin
Since I was a little girl, it was my dream to work for NASA. I've been fascinated by space for as long as I can remember. At first it was just stargazing and dreaming of being in space. Later, my interest became more about what it took to send people into space.
When I was in junior high I distinctly remember talking with my mom about the Space Shuttle and how cool NASA was and going on and on about how I'd love to work there. When I stopped for a breath she said, "Why don't you?" That's when it became a real goal for me.
Shoot for the moon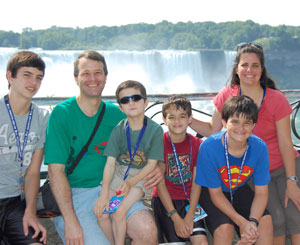 At first, a career at NASA seemed like a long shot, but having that as my goal really drove me to work hard and make choices that would put me in the best position to make it a reality. When I was in college, I had the opportunity to work at NASA as a cooperative education student, alternating semesters at work and school. I was thrilled to have gotten that far and knew that was my best shot at being hired after college.
Suiting future explorers
I've worked on several great projects while at NASA. I'm the assistant project manager for the Advanced Exploration Systems (AES) Suitport Project, a group of projects developing technologies needed for future human exploration of the solar system. The suitport is a way for astronauts to quickly get into and out of a space suit that is attached to the outside of the spacecraft. The suitport holds the suit in position and has a hatch that seals the wall of the spacecraft. The hatch opens allowing the crewmember to climb into the suit through the back. They then close the hatch, seal up their suit and go off to explore. Suitports have the potential to allow for frequent shorter spacewalks, keep dust and debris outside the spacecraft, and reduce the amount of air used by not having to use an airlock.
It's very exciting working for NASA. I'm inspired by the hard work and dedication of everyone around me. Knowing that we all have a common goal of expanding the reach of humans beyond the earth keeps me motivated and energized. The American space program has achieved some amazing things, and I love that I can be a part of that success and contribute to many future successes!
Having it all
I grew up believing that women could have it all — a great career and a wonderful family life. It wasn't until I actually had my first son that I realized just how hard that would be. Now I still believe I can have both but it definitely requires some juggling!
"It's not always 50-50 but we adapt on a regular basis to what's happening in our lives at the time."
When my kids were little they were in daycare — NASA has a great child care center. I think having a strong support system is the key. My husband and I share our parenting responsibilities. It's not always 50-50 but we adapt on a regular basis to what's happening in our lives at the time. My support system also includes wonderful friends and our extended family, though they don't live nearby. My management at NASA has been very supportive of developing my career while allowing me to switch to a part-time schedule to better balance my life.
The other key to balancing motherhood and my job at NASA is to know what things to let go of. You can't be perfect at everything so choose what to focus on and let the other things go. It really doesn't matter if the dirty dishes aren't washed before bed every night or if the laundry gets backed up on the living room floor. Also, I've learned to be more selective about volunteering and hobbies since I have very limited free time.
The mother ship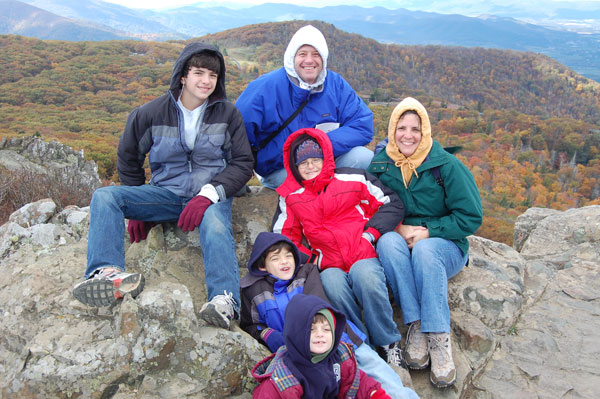 Hey, moms!
Know a mother with a great story? Email Jrosewriter@
gmail.com

Motherhood's taught me about patience, time management and flexibility! One of my sons has special needs and I've learned a lot about how kids develop and communicate. My kids are wonderful little people and it's humbling to have the job of raising them to be caring, responsible, self-sufficient adults. Motherhood is truly a forever job — every second of every day, not something you can (or want) to set aside while you do your "day job."
I want my kids learn how to work hard to achieve their dreams. I hope that I'm showing them that it's possible to have a tight-knit family and a fulfilling career.
Mom Wisdom
Try and think of the things that are actually going right with your life rather than focusing on your struggles. See what positive steps you can take to improve your situation and remember that many things look a lot better after a good night's sleep!
Read more "Mom Stories"
Mom story: I lead Microsoft's relief efforts
Mom story: I'm CEO of a tech company
Mom story: I'm an NFL cheerleader