Celebrity Baby
Bump Watch
Happy Wednesday Hump Day — also known as Celebrity Baby Bump Day! Actress Anna Faris showed off her cute baby bump in a sexy green dress, while pregnant Snooki was spotted without her signature platforms! Perhaps that recent fall knocked some sense into her? Model Marisa Miller is the newest celebrity to join the pregnant mom's club, as is possibly pregnant Gisele Bundchen. Vanessa Trump rounds out our list of cute celebrity baby bumps.
(page 5 of 5)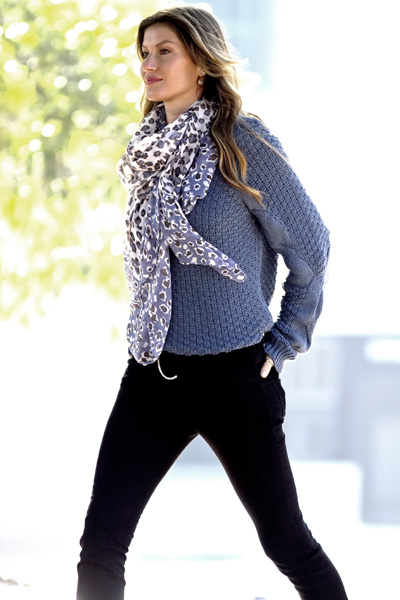 Gisele Bundchen
Baby bump rumors continue to follow Gisele Bundchen, after sources reveal that she and her husband, NFL star Tom Brady, are expecting their second child.
"They are really happy," the source told Us Weekly.
The supermodel, who is reportedly around three months pregnant, was spotted wearing a loose fitting blue sweater, black jeans and bump-hiding scarf during a photoshoot for C&A in Porto Alegra, Brazil.
Brady won't exactly confirm the baby news either, as the couple is possibly waiting until she is further along to confirm. When asked if Gisele is pregnant, he joked,  "I like working on it."
When pressed about what it is like being married to a supermodel, he said "Um, it's a marriage, so I have a life partner. Like most marriages there's a lot of give and take," he said.
And as far as those crazy haircuts (which honestly did little to take away from his looks) he quipped, "I've had a lot of ridiculous haircuts."
From Drew Barrymore to Megan Fox, check out more celebrity baby bumps here >>
Photo credits: Wireimage/WENN