Celebrity Baby
Bump Watch
Happy Wednesday Hump Day — also known as Celebrity Baby Bump Day! Actress Anna Faris showed off her cute baby bump in a sexy green dress, while pregnant Snooki was spotted without her signature platforms! Perhaps that recent fall knocked some sense into her? Model Marisa Miller is the newest celebrity to join the pregnant mom's club, as is possibly pregnant Gisele Bundchen. Vanessa Trump rounds out our list of cute celebrity baby bumps.
(page 2 of 5)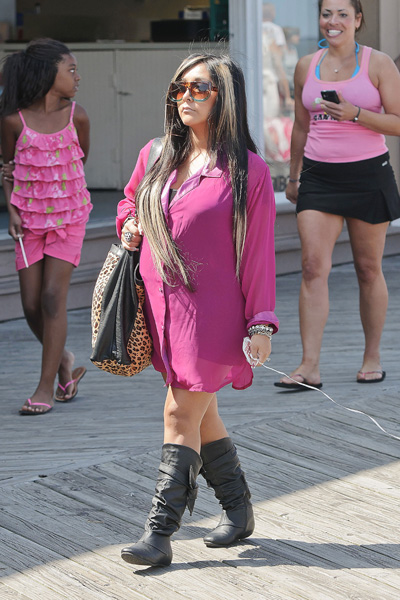 Snooki
Pregnant Snooki was spotted in Seaside Heights, New Jersey filming Jersey Shore and wearing — (gasp!) sensible black flat boots. Snooki had previously declared she was going to wear high heels throughout her pregnancy.
"I'm going to wear heels throughout. I'm 24, not 50!" she proclaimed.
Why the change of heart? It could have been the recent tumble Snooki had that was caught on camera while she was wearing platform sandals.
Besides the flat shoes, you may have noticed another change in Snooki — no tan! She said she was not going to go to the tanning booth while pregnant.
"I can use self-tanner, I think, but I don't feel the need to," she said. "This is my pregnant look."
Next up: Newly pregnant model Marisa Miller