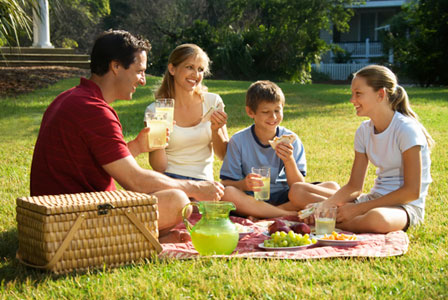 July is National Picnic Month. So what better to do this weekend than take the sack lunch to a whole new level with your family?
Creative family picnics
Grab the family and some creative food ideas and get outside for fun picnic dining and some serious family bonding during National Picnic Month!

The sunset picnic
Have the kids help research a spot to watch the sun set. Pack the perfect picnic basket and head out to your vantage point. It will be fun to watch the sun disappear into the skyline and then snuggle with your family under the stars. Bring blankets to cozy up with if it gets cold at night!
The five-star picnic
"Instead of sitting on the ground, bring a folding table and chairs."
Skip the blanket, lose the wicker and don't even think about finger sandwiches because there's nothing traditional or "picnic-y" about this picnic idea. Instead of sitting on the ground, bring a folding table and chairs. Instead of paper plates, pack the good stuff. Rather than preparing the food yourself, order take-out from a nice restaurant. It will be fun to bring upscale dining to the oudoors. But tell the kids they don't have to put napkins in their laps or worry about elbows on the table. High-end or not, they're still outside.
Picnics are a great way to bond
No matter what picnic idea you choose, use the "blanket time" to bond with your kids. Play games, ask them about their day (and tell them about yours), discuss what they (and you) are thankful for. No matter what the topic of conversation or what's on the menu, having this time together as a family is a unique way to connect.
More picnic ideas
Fun picnic ideas for family days out
Summer picnic essentials
Plan a healthy picnic