Baby Batman And
Cool Kat Girl
We are not going to suggest you name your baby boy Batman or your daughter Wonder Woman, however we have put together a fun list of baby names inspired by your favorite superhero or superheroine. From the fab "birth names" of superheroes, to names inspired by your favorite superhero, you may be surprised at our list of cool names!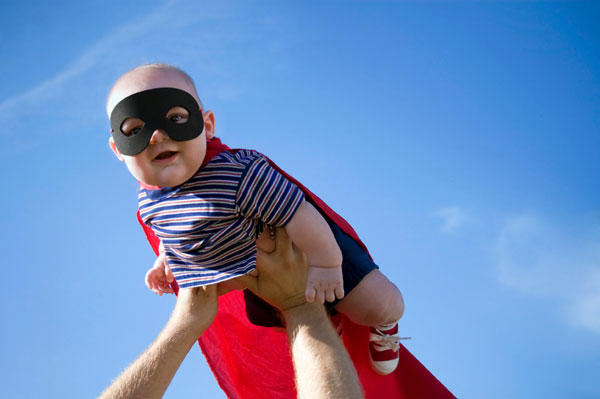 With the popularity of The Avengers (Captain American, Thor, Iron Man, The Hulk, Black Widow) and Spider-Man, we thought it would be fun to find baby names inspired by superheroes. After all, superheroes are strong, courageous — and often have pretty cool costumes to boot!
Superhero baby boy names
Actor Nicolas Cage named his son a superhero name with Kal-El, which is Superman's birth name — which got us thinking about other superheroes birth names. Check them out below:
You can also switch up the spelling of a superhero name, for example Spyder instead of Spider, to come up with a unique name. Using just a portion of the superheroes name, for example, Flash, is also a fun idea. Check out more superhero baby boy names:
Superheroine names
Looking for a superheroine baby name for your smart and sassy baby girl? Check out the birth names of some of your favorite girl superheroes for inspiration:
We have also switched up the spelling or let some of our favorite superheroines inspire this list of baby girl names. Virtue baby names, which are names of characteristics you would like your child to have, are another cool way to find a superhero baby name. Grace and Faith are popular virtue names, but you can also consider unique virtue names like Truth, Radiance and Charisma. Check out more fun and unique ideas for baby girl names:
Many of these names, include Shadow, Flame, Rogue and Storm are actually unisex baby names that would be great for a boy or a girl!
Superhero name generator
Just for fun, you can check out this Superhero Name Generator to find out what your own cool superhero name would be. Here are a few of mine:
Pyrowoman
Heat Hawk
Gal Crow
Ceruliana
Cyania
Ember Burn
Flock Burner
More baby name fun
OMG! Funny and ugly baby names
Kick butt baby names
Baby names your friends will want to steal
Baby names with serious swagger