Magazine Cover
Roundup
Some of our favorite celebrity moms graced the cover of magazines this month. Jessica Alba looked amazing on the cover of Marie Claire, and she opened up about how motherhood has changed her style. Mom-to-be Anna Paquin was Zooey Magazine's covergirl, while Tia Mowry rocked Vibe Vixen. Rounding out our list, Jillian Michaels talked adoption on Ladies' Home Journal and the ladies of What to Expect When You're Expecting looked lovely on Redbook.
(page 2 of 5)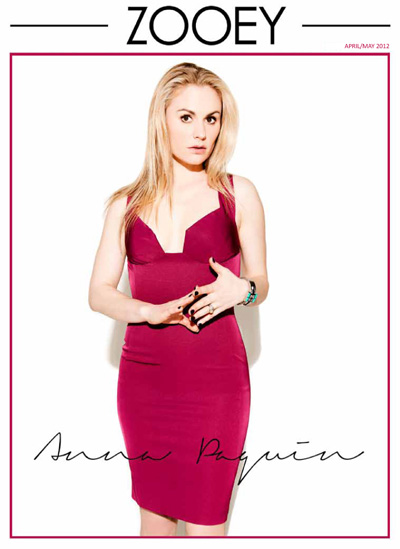 Anna Paquin
Pregnant Anna Paquin wasn't showing when she graced the June 2012 cover of Zooey — and actually didn't reveal her baby news until after it had hit stands. The True Blood actress, who is expecting her first child with her co-star/husband Stephen Moyer, opened up... about shutting up!
"I think it's important to have things that are just for you and people that are closest to you. Some people share absolutely everything, but then what do you have left that's yours? It diminishes what's really special in your life," she said, about having a reputation of being "mysterious."
Paquin, who plays Sookie in the hit HBO show, also explained why she revealed that she is bisexual.
"I'm not someone who endlessly talks about her personal life for no reason, but obviously, as someone who identifies as bisexual, those are issues I really care about," she said.
 "I'm someone who believes being bisexual is actually a thing," Paquin reveals. "It's not made up. It's not a lack of decision. It's not being greedy or numerous other ignorant things I've heard at this point. ... For a bisexual, it's not about gender. That's not the deciding factor for who they're attracted to."
Next up: Jillian Michaels talks handling single mom criticism in Ladies' Home Journal
Photo credit: Zooey Magazine