Keep them children as long as you can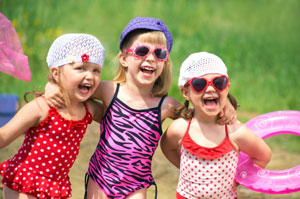 There are moms who prefer that their kiddos only don a one-piece suit. "One piece, period," said Lexi from the U.K. "Probably until age 15, but we will see." Charlene, mom of two, concurred. "No bikinis allowed," she told us. "Too sexual in my opinion. Not to mention, why would I want all that skin exposed to the sun? I prefer to cover as much skin as possible so she doesn't burn."
Then there is a child's emotional development to consider. "What does the typical 7-year-old girl look like emotionally?" asks Mary Jo Rapini, psychotherapist. "They want to be perfect at this age and may seem more self-critical than they were at 5 or 6 years. They also began to feel a stronger connection with shame and guilt. What message are we sending our young girls? Dress them like children, expose them to TV shows for children, listen to music specifically for children, and appreciate this innocent time in their lives."
Depends on the two-piece
Lots of parents had no problem with two-piece suits, but only certain ones. "It really depends on the bikini," said Lisa, mom of one. "The triangular cup ones that mimic adult swimwear are the ones I find disturbing. There are, however, tankini top bikinis that do not bother me at all."
Rachelle from Ohio agreed. "I love having my daughters in two pieces only if they are tankinis and only show a tiny bit of belly," she shared. "The two-piece suits are great for diaper changes and if they need to go potty. I draw the line at tiny bikini tops. To me it seems as if they are trying to sexualize kids by giving the illusion that they have breasts that need to be covered."
Bikinis are OK
Other moms were fine with baby bikinis.
"I don't have an issue with the bikini at all, as long as it's not mimicking an adult bikini," said Jessica, mom of one. "As soon as I go to buy her a new suit, I'd like to get her a cute baby bikini because her belly is so round and adorable right now."
Linsday, mother of one, felt the same. "I don't see anything wrong with bikinis on little girls," she explained. "It's so common here because we are close to the coast. Honestly, if someone is going to think a little girl in a bikini is sexy, they are probably going to think that regardless of what she is wearing."
Tell us
What will you choose for your little girl? Does she choose her own suit or do you have hard-and-fast rules on bathing suits?
More on summer fun
Summer weekends: Water fun
Summertime fun for the WAHM
Money-saving strategies: Summer fun on the cheap