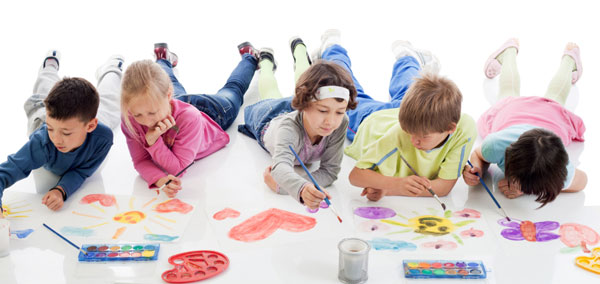 Unleash your kids' creativity
In a society where we're constantly entertained, it can be tricky to foster creativity in our children. Here are a few fun ideas that push them to think in new ways to help them to turn off the electronic devices and explore their own creativity.
For most parents, creativity takes a backseat to all of the responsibilities that we have in our day-to-day lives. But for our kids, exploring their burgeoning creativity is one of the most important jobs they have. While it's important to provide them with the typical supplies that line the arts and craft shelves at our local Target, providing them with new and unexpected materials can unleash new, unexplored creativity.
Ditch the expected supplies
Instead of putting out the crayons and markers, try switching them out with some paint and a selection of tools to paint with. Try unexpected tools like feathers, sponges, empty toilet paper towel tubes and cotton swabs. Pushing your children to express themselves in a new way might just unleash some amazing creativity.
Think outside the box
There's no denying the fact that kids love cardboard boxes. For a week or two, set aside all of your boxes, from cereal boxes to shipping boxes. Then, hand your kids a roll of tape, some stickers and a handful of markers, but don't give any creative direction. Sit back and see what your kids create when their creativity kicks in. Will they make a castle, a car or something that you never even thought of?
Expose their unique point of view
Sometimes, it takes seeing life through a different lens to unleash our creativity. Try handing your kids an old camera or even your smartphone and set them loose. Encourage them to take pictures of the things that they love in unique ways. Then, go through the pictures with them to see what the world looks like through their eyes.
Park the predictable play dough
Yes, play dough is great. But our kids have been there and done that, probably a hundred times over. Try replacing the play dough with fresh materials like clay, shaving cream and Silly Putty. You'll also find gloop and slime to be great for little fingers and super easy to make at home. Your kids may know just how to play with play dough, but these new textures will push them to think in new ways.
Sometimes fostering our kids' creativity requires us to push ourselves to explore our own. But, by providing them with opportunities to explore their artistic side, we're helping them to think in new and exciting ways that will serve them throughout life.
More creative fun for kids
20 Creativity-boosting activities for families
Creative everyday play ideas for kids
Playroom turned craft room