Celebrity Baby
Bump Watch
Happy Wednesday Hump Day — also known around here as Celebrity Baby Bump Day! We have rounded up the cutest pregnant celebrity photos of the week. Pregnant Megan Fox is finally showing and is sporting a cute baby bump, while Gisele Bundchen is keeping quiet, but has a rounder midsection, as well. Pregnant Kristin Cavallari looks fab in a bump-hugging tank dress, while Molly Sims and Kourtney Kardashian show us how to look amazing in your third trimester.
(page 2 of 5)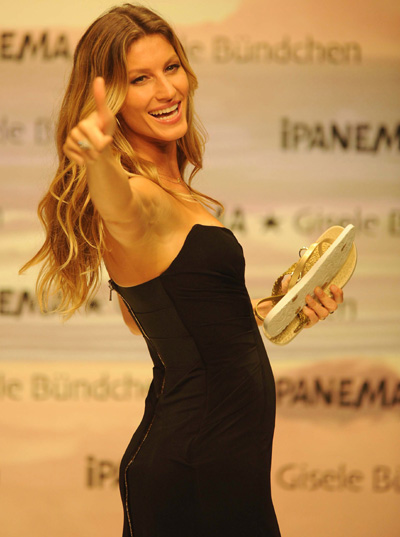 Gisele Bundchen
Is Gisele Bundchen pregnant with another Patriot? Model Bundchen is reportedly pregnant with her second child with her football star hubby, New England Patriots quarterback Tom Brady. The couple have yet to speak out on the baby bump rumors, choosing instead to let her tummy do the talking.
Bundchen, 31, was recently spotted out at the park with her 2-year-old son Benjamin showing off her baby bump in a gray yoga outfit. The Brazilian model usually has an itty-bitty tummy, so the fact that she has a tiny bump certainly has tongues wagging!
Speaking of tongues wagging, Bunchen got people talking when she told Harper's Bazaar last year that breastfeeding should be mandated by law. "I think breastfeeding really helped me keep my figure. Some people here (in the U.S.) think they don't have to breastfeed, and I think are you going to give chemical food to your child when they are so little? I think there should be a worldwide law, in my opinion, that mothers should breastfeed their babies for six months."
This will be Bundchen's second child, however Brady's third as he also has a 4-year-old son named Jack with ex-girlfriend Bridget Moynahan.
Next up: Kristin Cavallari's stylish bump