How To Nourish And Empower Your Children
Nutrition, exercise and self-esteem are all factors in raising strong kids. Learn how to nourish, encourage and empower your children now to help them thrive and grow into confident, healthy and strong adults.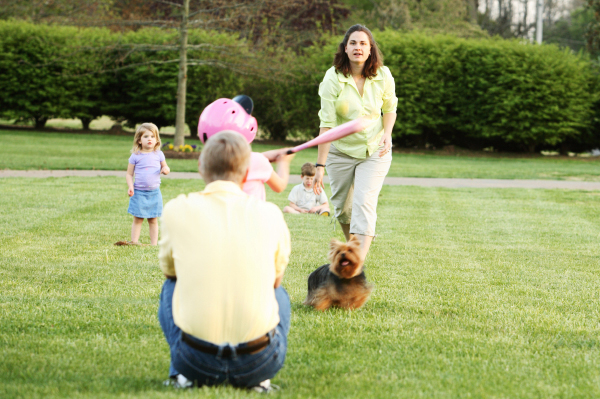 Teach healthy eating habits
From a young age, you can teach your children about good nutrition. By laying the groundwork when they are young, you'll not just keep them healthy now but also create a lifetime of healthy eating habits. A well-rounded, healthy diet consists of calcium-rich foods for strong bones, lean meats and/or other forms of protein and an array of colorful fruits and veggies for vitamins and antioxidants. Most kids also need beans and legumes, whole grains and some healthy fats in their diets.
In addition to talking to your kids about healthy foods and how they fuel the body, get them involved in shopping, preparing and cooking their food. Sit down at the table together for family meals whenever possible. Also, practice what you preach. You shouldn't expect your children to eat healthfully if you aren't doing the same yourself.
Get outdoors as a family
For kids to grow up strong and healthy, they need time outdoors. Outdoor family activities are great for bonding, plus they are the perfect way to get your kids moving. Take young kids to the park on a regular basis or at least get outside in your own yard to soak up some vitamin D from the sun and get some exercise. Make it a habit to take walks (or jogs) around your neighborhood. And when the weather is good, take advantage of the opportunity to go hiking, biking, swimming and more.
Encourage participation in sports
From the time kids are toddlers, they can get involved in organized sports. From gymnastics to soccer, and tennis to football, your children are sure to find an activity or sport they love. School isn't the only place for kids to be involved in athletics. Explore other leagues and programs offered by your local parks and recreation department, community center and other organizations.
Foster creativity
Strength isn't only about your body -- it's also about your mind. Though you can't turn your child into a world-renowned artist or Nobel Prize-winning scientist, you can put her in a position to tap into her creative side. Expose your children to art and culture through local museums, festivals and other events. You'd be surprised how many free events are available in your area for kids and families. Encourage them to explore their creative side by providing art supplies, puzzles, science kits and more.
Build self-esteem
Inner strength comes from self-respect and self-esteem. Regular praise will help build self confidence in kids of all ages. Read about the importance of praising your kids and ways to encourage and empower your children. Self-esteem is vital for your child to grow up into a strong, independent and respectful adult.
While all children are different and present unique challenges, parents can certainly influence their growth and strength -- both inside and out -- with patient, thoughtful and healthy nurturing.
More about kids' health
Quiz: Are you teaching your kids healthy eating habits?
10 Healthiest foods your kids need to be eating
Healthy lunch ideas your kids will love
More From SheKnows Explorer