How I'm fighting to save his life
Darrile and her husband Mark knew their newborn son Dillon had health problems almost immediately — he had jaundice for three weeks after they brought him home from the hospital but he was misdiagnosed several times. Finally, at around age 3, a doctor did a skin biopsy that revealed that Dillon had Niemann-Pick Type C (NPC), a rare genetic disorder that results in abnormal amounts of cholesterol and lipid accumulating in the spleen, liver and brain. There is no cure, but rather than give up, Pappier decided to put all her efforts into raising money for scientific research, with the attitude that there has to be a first child to survive NPC — why not Dillon?
"My mom story"
by Darrile Papier
as told to Julie Weingarden Dubin
I work at an investment group and my husband, Mark, is a high school social studies teacher and baseball coach. We're blessed with a beautiful son, Dillon, who turns 10 in August. Dillon touches the lives of everyone he meets. Total strangers meet him once and they never forget him. Dillon loves baseball and being with his friends and family. During birthdays and holidays he never wants gifts, only the company of his loved ones to play ball with him. Dillon wakes up every morning with a smile and goes to sleep each night with a joke or funny story. Every day is a pleasure and every night is a blessing.
An unimaginable diagnosis
We were devastated by the fatal Niemann-Pick Type C (NPC) diagnosis, and went through soul-crushing shock and disbelief. NPC takes away kids' ability to walk, talk and swallow, eventually requiring a feeding tube. Seizures are common with a progressive neurological decline that robs children of the ability to recognize their parents and then steals their lives.
Dillon is in the early stage with symptoms that include an enlarged spleen and liver, clumsiness, vertical gaze palsy (inability to look up without moving his head), and speech deterioration. Dillon is still walking and going to school and functioning relatively well. We consider ourselves fortunate since many NPC children don't live to age 10.
There will be a time in the future when we will watch our son deteriorate and be unable to communicate with us. For right now, we live in the moment and enjoy everything Dillon has to offer. Dillon is currently on an experimental drug that we believe has slowed the progression of the disease.
Fighting for a cure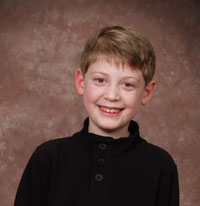 Few doctors have experience with the disease so I went online and found the National Niemann-Pick Disease Foundation and I got involved right away. I now serve on the board of directors and the research committee. Mark and I refuse to sit back and do nothing. If we can continue to raise money and awareness maybe treatments (and one day a cure) can be found to minimize symptoms and prolong the quality of life for NPC children. We know that Dillon's only hope for a timely cure is to battle this devastating disease by funding NPC research.
We maintain a positive attitude by living in the present with Dillon and celebrating the small stuff — every baseball game and every birthday. He brings such joy to others just by his extraordinary zest for life and his fun-loving personality which always makes a lasting impression because of his love for others.
A community's compassion
Our community in Frederick, Maryland, has helped us raise money for research. Kids have given up toys and birthday gifts to help Dillon. In honor of Dillon, our community has raised almost half a million dollars.
Fact
According to the National Niemann-Pick Disease Foundation, Niemann-Pick disease has an estimated 500 cases diagnosed worldwide. NPC is always fatal. The majority of children with NPC die before age 20 (many die before the age of 10).
We've experienced the genuine warmth of friends and strangers alike, who, once they learn about this horrific disease, have opened their hearts and their pocketbooks to help us in our race to save Dillon and the other NPC children. We feel fortunate in such an unfortunate situation.
The support, generosity and compassion from our family, friends, community, teachers and doctors give us encouragement and strength. We know we're not alone in our struggle for a cure. We want Dillon and the other NPC children to receive the gift of hope that one day they will have more than their childhood — they'll have a lifetime.
Mom wisdom
When managing a difficult situation, grasp for the positives and don't let go. Take stock of your resources, and those of your friends, family and community, and let them help.
Hey, Moms: Do you know a mother with a great story? We're looking for Mom Stories. Email Jrosewriter@gmail.com with your suggestions.
Read more "Mom Stories"
Mom story: I made a video about my blind son
Mom story: My daughter has Williams syndrome
Parenting and autism: Angela's story