Moms Who Beat Infertility Share Their Stories
When you struggle with infertility and the months of waiting for a pregnancy turn into years, it can be difficult to imagine ever holding your baby. We spoke with more than a dozen moms who bravely battled infertility and won and we're honored to share their powerful stories with you.
(page 9 of 15)
Kir Piccini and her sweet twin boys, Gio and Jacob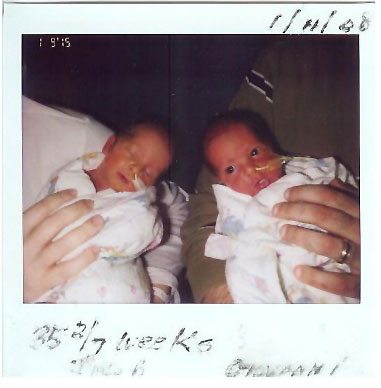 A letter to my boys:
There are no pictures of the first time I held you, one after the other, in my arms. Instead what I have are pictures from the days after you took that first breath, some taken by the nurses in the NICU suite as I sat in a comfortable rocking chair and waited for them to unhook some of the wires and let some others remain before placing your small sweet bodies into my hands. Some have your daddy sitting next to me, or your grandma, but that first time I held you, it was just me and you, gazing into each other's eyes and starting our love affair.
Your daddy tells me that as they were removing you from my body that 8th day in January that the doctor did bring you to my eye level before she handed you to the scrub nurses but I don't remember any of it, my memories of that morning are hazy and rose colored.
I was just so happy you were both alive.
So it wasn't until I'd been released from bed and taken a renewing shower the next morning that I was able to leave my room and walk past the smiles and congratulations of the nurses' station making my way to the hallowed doors of the NICU.
I walked in on a shift change, so for a few moments, where a doctor was droning on and staff was anxious to leave, I felt out of my own body. I was standing there, willing someone to notice me when one of the nurses did, in a gruff voice ask if she could help me, all that came out was a peep, a whisper, "I am Giovanni and Jacob Piccini's mom."
The air shifted, the people parted and the smiles lit the faces of everyone.
"Oh the twins! It's the twins' mom!"
So I was ushered into the room of incubator bassinets, with the humming of the low-level lighting and the crying of babies eager to live ringing in my ears, to two see-through beds standing side-by-side, the way I hoped you would be for the rest of your lives.
I remember thinking after holding you Giovanni that your weight at birth, 5 pounds, 1 ounce, belied the enormous love that I felt as I counted your toes and stroked your cheeks. I recall being reluctant to hand you back to the nurse but eager to welcome Jacob into my arms, to open the swaddle blanket and explore the small tiny places on this child I now called my son.
I did not cry, not in that moment.
I was making conversation, being entertaining and asking lots of questions. I was nodding along with the staff that agreed you really were the most handsome babies they had ever seen (they might have been lying but I didn't care, to me you were, you are) spending the hour I got with you learning how to feed you from the bottles and hand you back when it was clear you'd need gavages.
"I had waited four years to hold you in my arms and yet I still wasn't in any way prepared for the emotion, intense love and out-of-body gratitude for the miracle you were."
The one clear thought I had in those first days of motherhood was that it just didn't seem possible that I had waited four years to hold you in my arms and yet I still wasn't in any way prepared for the emotion, intense love and out-of-body gratitude for the miracle you were. Infertility had made my skin shimmer and my thoughts race, I do remember wondering if you were real, touching you, and kissing the soft spots of your heads over and over again all the while wondering if all the scary and unreal moments of trying to conceive you and then my overdue and most welcomed pregnancy had been just an illusion.
It would take months, but eventually my eyes would not tear and leak every time I caught a glimpse of you or heard your babbles, but on that first day right before I was told I needed to let you rest and could come back in four hours for your feeding, what I felt was the coming together of Faith and Hope, of Determination and Dare, of Medicine and Miracle bundled together in a bundle of Tenderness and Devotion that still takes my breath away today.