Moms Who Beat Infertility Share Their Stories
When you struggle with infertility and the months of waiting for a pregnancy turn into years, it can be difficult to imagine ever holding your baby. We spoke with more than a dozen moms who bravely battled infertility and won and we're honored to share their powerful stories with you.
(page 8 of 15)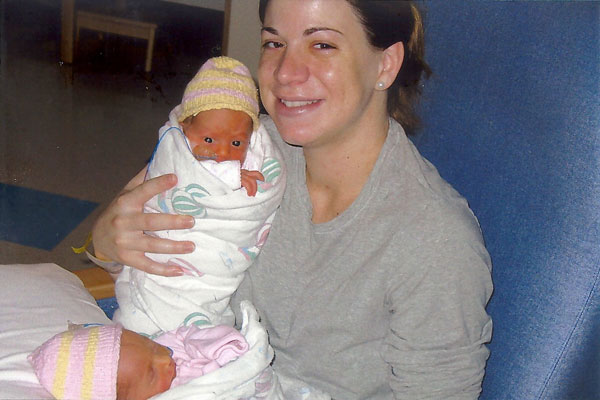 Erin Margolin, pictured with twin daughters, Izzy and Abby
"Hi Erin, it's Mary Ellen. The IUI failed. Dr. B. says it's time to consider IVF. Can you come in for a consultation?"
The phone clatters to the floor. This is a dream, I think. I return to wiping the counters, extra hard and fast. My brows furrow when I hear a small voice chirping from the cordless. I pick it up. Mechanically I finish the call, bobbing my head. Yes. No. The 12th won't work. Okay, Tuesday at noon. Thanks. See you then.
I dial my husband at work. Only when he picks up do I allow myself to cry. The Clomid, the inseminations, the IUIs with injectables... all for nothing? Stupid PCOS. My body betrayed me, refused to do what it was born to do.
The consultation is long and I leave with a red sharps box, vials of Lupron, Gonal-F, and Progesterone in oil, pills, pages of instructions and needles. Lots of them. Two sizes: short and stabby or long and scary.
"Yes, I was that girl, the one who giggled through sex, convinced every time that conception would occur."
I wanted so badly to be a mother and never thought it would come to this. Yes, I was that girl, the one who giggled through sex, convinced every time that conception would occur. I charted, took my basal body temperature daily, read Taking Charge of Your Fertility and highlighted the important parts. I believed this would result in a quick, easy conception. Especially since I was a pro at propping my hips on pillows with my legs up in the air and using egg whites for lube (lube kills sperm!).
Fast forward many months to my second round of IVF, the day of embryo transfer. We had two extended blastocysts. I gazed at them on the screen and tears dripped onto my gown when my RE said, "I'm thinking twins." I tried not to think of all the previous failures and the possibility of surrogacy or adoption ahead.
Eight days later I learned we were pregnant. On Friday, December 9, 2005, I delivered my twin daughters via C-section. They were premature and required feeding tubes and heart rate monitors. I expected at any minute something might go wrong. But it didn't. We took them home on December 31, 2005, and now they are healthy and thriving at 6-1/2 years old.
In retrospect, I believe struggling with infertility made me a stronger person. It made me appreciate motherhood that much more. It made me who I am today.