Moms Who Beat Infertility Share Their Stories
When you struggle with infertility and the months of waiting for a pregnancy turn into years, it can be difficult to imagine ever holding your baby. We spoke with more than a dozen moms who bravely battled infertility and won and we're honored to share their powerful stories with you.
(page 7 of 15)
Wendy Nielsen, pictured with Audrey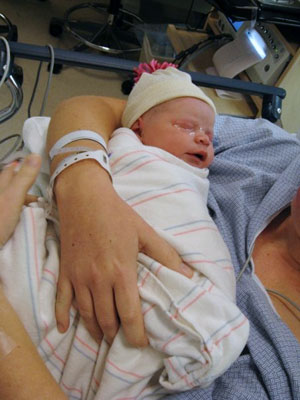 We said we would wait five years after we were married before trying to get pregnant. When the time came, we were both very ready to start a family. Month after month turned into 18 months of trying and my goal of having a baby in 2006 came and went, as well as in 2007. I felt embarrassed and couldn't bring myself to ask my fertile friends what to do. My OB suggested Clomid but that plan was upset when another doctor urged having a hysterosalpingogram (HSG) test first. In the meantime, I began acupuncture, drank awful herbal teas and my husband was sent to see an urologist. The HSG test indicated no detectable problems — so I was told by my OB. Her conclusion was that the fertility problems lay with my husband, even though the report from the urologist said otherwise. Our next stop would be the fertility doctor as it appeared an IUI or IVF would be in our future.
"With one look at my HSG test and an ultrasound to confirm it, the fertility doctor concluded that the problem was indeed me."
What a difference a doctor makes. With one look at my HSG test and an ultrasound to confirm it, the fertility doctor concluded that the problem was indeed me. The diagnosis was stage 3 endometriosis. Strangely, I had an innate feeling this would be the case but when I previously complained of painful cycles to my OB, she dismissed them, saying that women with endometriosis know they have it because the symptoms are so severe. Yet, the fertility doctor had no doubt about it as my tubes and uterus were covered with cysts and scar tissue. On Valentine's Day 2007, I underwent surgery to have the endometriosis removed and it would be a race against time to conceive before it came back. The plan was to try naturally for two months and then we would go straight to IVF. I had all the needed fertility drugs stocked in my refrigerator when I found out in April that I was pregnant!
I held my sweet Audrey for the first time while I was in recovery that late rainy night in January. Swaddled tight with a hospital beanie covering her head, she smelled like a Cabbage Patch doll and puckered her mouth in a way that reminded me of a baby bird. I was finally a mom and in my arms was the child I had longed for and dreamt of for many years.
While nursing, I found a lump that was eventually diagnosed as an aggressive form of breast cancer. Eight months to the date my daughter was born, I was back in the same hospital undergoing surgery to remove the cancer. I can't help but wonder if maybe cancer (and the over-abundance of estrogen my body was producing) played a role in developing endometriosis and why I couldn't conceive early on. That question remains unanswered but what I know for sure is that my sweet baby girl saved my life. Sadly, treatment has left me infertile and while a part of me wishes I would have savored those first moments a little bit more, I certainly will never forget them.