Moms Who Beat Infertility Share Their Stories
When you struggle with infertility and the months of waiting for a pregnancy turn into years, it can be difficult to imagine ever holding your baby. We spoke with more than a dozen moms who bravely battled infertility and won and we're honored to share their powerful stories with you.
(page 2 of 15)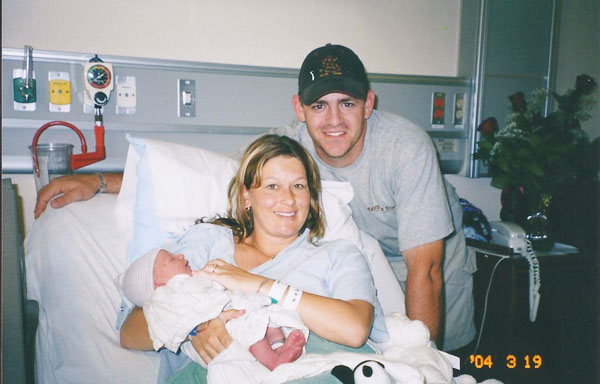 Crystal Patriarche, SheKnows editor-in-chief, with her son Eli
I'm not afraid to admit that my daughter, our first child, was an accident. A happy accident. A pleasant surprise. A big whoops! It happened quickly and unexpected and we simply eased into parenthood in the way that most young couples don't. The ease of which we became pregnant and became parents is something that I now know is not to be taken lightly, something that so many women long for and are denied all together. Infertility is something that comes out of the woodwork once you open up about it, but is a pretty deep and painful secret many women face — somewhat alone — until you do speak about it.
So, yes, I was blessed with getting pregnant super easily the first time — and I say that not to rub it in. I say that because it's what made facing infertility the second time around become a complete lonely and painful — and hurtful — experience. You see, most people just assume that because I had a child, a beautiful daughter, that I couldn't possibly understand what true infertility is. That I had one and that should be plenty. That I should count my blessings and be glad for what I was given and not want more. Secondary infertility is not infertility at all — that's the message being sent my way. I was made to feel guilty and wrong that I wanted another child. I was made to feel like I shouldn't feel bad at all about not being able to get pregnant again. One should have been enough, more than enough. And, yes, it's more than what some are given, I know.
"We tried for months. Months turned to a year. More than a year. No one could explain it."
And while I did count my blessings and did realize just how lucky and fortunate I was to have gotten pregnant so easily the first time, it didn't make it any easier to digest that it just may not happen again for us. We tried for months. Months turned to a year. More than a year. No one could explain it. My husband and I were both tested. We planned, we did calendars and charted, we did positions, we did the embarrassing doctor appointments. We did the infertility drugs and expensive, painful procedures and shots. We tackled insurance companies and drugs from France. And we tackled the needles and bruises. The mood swings. The feelings of failure. We did all this while others around us were growing their families — we did this in silence. Because we didn't want to appear selfish, we didn't want to feel like we were asking for too much while others got none.
And yet, everywhere we went — babies and more babies. My aunt became pregnant with twins (she was in her forties and they weren't even trying!), my sister-in-law got pregnant with another (we had our first pregnancies together — I felt her leaving me behind!). To top it off my sister became pregnant with triplets. Triplets! Naturally! Like one in a million odds. Babies. Everywhere. And I was not able to get pregnant again. No sibling, a missing sibling. Several missing siblings — I had always dreamed of a big family. One would have to do — serves me right for it coming so easy the first time, so easy that I didn't even know or appreciate how easy it was.
There is shame. There is guilt. There are those who feel like secondary infertility is no big deal. Because we've already been given a child. How dare we want more? How dare we feel bad?
We did the drugs. We did the IUIs — multiple times. We did not get into IVF or beyond. It was still expensive. It was still infertility.
Eventually, it worked — it all came together and it worked. I don't know why, I don't know how. I know many couples try and never have success. I know it's stressful and hard — physically, emotionally, financially, psychologically — but do I really know? Do I truly know what it's like because the first time it was so easy? I don't know. What I do know is that it worked. Eventually, with faith and love and persistence and medicine — with the help and support of family (yes, we eventually told everyone we were struggling — and got so much support in turn that I'm not sure why we waited. Why we felt selfish and shameful to begin with. Stories came out of the woodwork, stories from other women that I never knew were suffering in silence).
Eventually, it worked. And he was perfect. So worth the wait. So worth the stress and the struggle. And I don't know why it was easy the first time and a struggle the second, I don't know why some don't get a first time or an easy time. All I know is, eventually it worked and he was perfect. And so worth the wait. And I hope that if you're facing this — secondary infertility — that you know you're not alone, that it's real, that it's not wrong or selfish to want more. I hope it works, I hope you have that moment when you know it was all worth it.
I look at Eli now. I tell him we have a secret. That he was the one I waited and waited for. And that he was worth the wait, and worth the hard work. And he is perfect.