Moms Who Beat Infertility Share Their Stories
When you struggle with infertility and the months of waiting for a pregnancy turn into years, it can be difficult to imagine ever holding your baby. We spoke with more than a dozen moms who bravely battled infertility and won and we're honored to share their powerful stories with you.
(page 10 of 15)
Coreen Kremer, pictured with Mattias and Flynn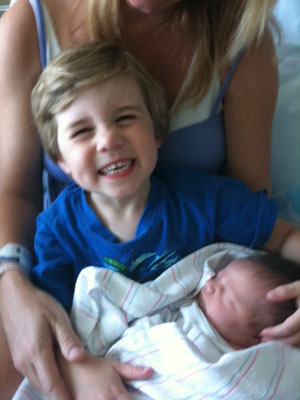 My story, the short version:
My husband and I met in 1996 and never used traditional birth control. We were young, a little stupid and "pull out and pray" worked for us. We married in 2000 and decided we wanted to travel and live and weren't ready for kids. Several years later, on New Year's Eve, as 2003 rolled into the newness of the next year, we decided to try for a baby. That night, with the love, wonder and expectation of making the decision to start a family, I was sure we'd get pregnant. That it'd be that easy. I was wrong. You only get 12 times a year to get pregnant and until you experience the loss of each month passing by, you don't realize what a small number an even dozen is. My OB-GYN ran all the tests, they started out non-evasive but eventually I ended up being completely poked and prodded. My husband was tested too. The diagnosis: undetermined infertility or some other inconclusive nonsense.
During this time, cycles were monitored, temperatures taken, and a lot of sex was had. To the point my husband would ask wearily, "is this for procreation or pleasure." The jokes about his swimmer being afraid of the dark faded and it was tense. I cried in secret every time another friend announced their pregnancy.
"I cried in secret every time another friend announced their pregnancy."
My OB-GYN referred us to a fertility doctor, who I adore to this day, and after the initial orientation and meet and greet, the testing started over. It was then 2005.
Too many insensitive, already-parents friends told us to just relax and it would happen. That year we went to Hawaii, Mexico, Costa Rica and New York. And my period started after each and every trip. That November, we opted to try our first IUI cycle. I took Clomid and for a drug you don't take that much of for that long, it sure makes you crazy. I went from laughing to hysterically laughing to sobbing in minutes. And the hot flashes and sweats — good Lord. I'm sparing you the details of how stressed my marriage was, because it wasn't good and I don't want to relive it. The day we did the IUI, my husband and I fought. Again. But a beautiful friend, who had just gone through several failed rounds of IUI, said, "Your baby may not be made romantically but is certainly being made with love." That was something we strove to remember when the stress was too much.
But it worked and we got pregnant. And then miscarried 10 weeks later. There is so much emotion still associated with that time that I can't put into words, but we opted to try again. I pushed for it. I knew I was meant to be a mom. I knew I wouldn't stop until I was. It was a difficult idea to accept that just being a wife wouldn't be enough.
We went in for the next round and discovered I had developed a cyst so was put on the pill. I was on the pill while trying to get pregnant. We didn't laugh much, but we tried.
It was then Easter Sunday, 2006, and my parents, in-laws and brother were all staying at our house. My husband had to provide his swimmers in a cup with a house full of family. I ended up going to the appointment alone, but it worked and we were pregnant. Each week, our baby grew stronger and our relationship did too. On January 2, 2007, we had our baby boy. We named him Mattias, which means Gift of God.
We never used birth control after that, thinking even if we got pregnant when our son was 6 weeks, that'd be OK. But we didn't get pregnant, so in 2009, we started with our fertility doctor again and our baby girl was born in 2010.
When I was going through this, I only knew one other person who had [been going through it too]. Thankfully, I am not shy about sharing my life and the best way for me to process it was to talk about it. I am sad to say that I know so many women who have had fertility issues and many who have had a rougher time than I did with failed IUI and failed IVF but the emotional drain is the same. When you want something more than anything and it is out of reach, it is devastating. The stories may vary but the feelings are the same. I'm sad that I have so many friends who've experienced this but I am so happy that I have friends to talk to about it, cry with and lean on. When we unexpectedly got pregnant in 2011 and miscarried, I was surrounded by love and support and for that, I will be forever blessed.