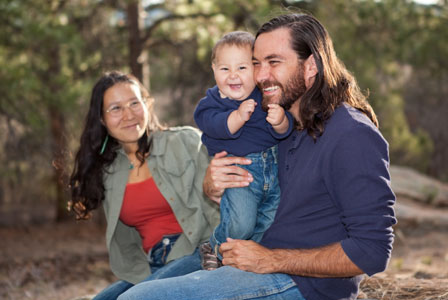 Camping with a baby can be a fun experience, but like at home, it can bring unexpected changes to your baby's routine and mood.
A camping we will go!
By packing smart, and possibly starting the adventures at a young age, you can create lasting memories for your family.
Can you camp with a baby?
Julie Hark and her husband are avid campers and have been camping for years — well before they decided to start a family. The couple took their first son when he was only 7 weeks old, saying, "we never thought twice about taking our boys camping, it was second nature to us." Taking an infant anywhere has its advantages, and camping is no exception. "It's pretty easy early on… I didn't have to bring much, just my breasts, a place for him to sleep and a baby carrier," added Julie.
Baby gear must-haves for family camping trips
Keep your baby comfortable and happy while camping
Tip: While camping with kids, keep an open mind, be flexible and take care of yourself, too.
Bring some of the comforts from home to help make your camping experience a little more enjoyable and memorable. Karli Argus and her husband took their two boys camping when they were 1 and 3. "[We] brought lots of backyard toys, a ridiculous amount of clothes (and used them all), five packs of baby wipes and our DVD player… Oh, and I slept in the van."
Because you never know what kind of weather you will be dealing with through the night, pack a wide variety of sleepwear and approved swaddle blankets or wearable blankets for cold nights.
Remember: Your baby only requires one layer more than you while sleeping. Never bundle your baby in loose blankets or sleeping bags.
Rachel Escalante and her husband have taken their three young girls camping a few times. Rachel's packing list for her kids includes: "Lots of wet wipes, sunscreen, a play yard, baby carrier and an inflatable kiddy pool filled with toys — not water."
Keep your baby safe while camping
When you arrive at your campground, check with the park ranger and locate the nearest first aid, emergency room and/or hospital.
Inspect your campsite for hot coals, glass, trash, choking hazards and other dangerous items that might have been left behind from previous campers.
Keep your baby protected from the sun, disease-carrying bugs, poison ivy and other potential outdoor hazards.
Join
If you're looking for an excuse to test the waters before planning a big camping trip with Baby, join the Coleman Company and the National Wildlife Federation in the Great American Backyard Campout on June 23, 2012.
More on family camping
Top camping vacation destinations for families
Camping checklist: 7 Things you'll probably forget
Campout in your own backyard