Celebrity Baby
Bump Watch
Happy Wednesday Hump Day — also known around here as Celebrity Baby Bump Day! We have rounded up the cutest pregnant celebrities of the week, including Sienna Miller showing off her cool boho baby bump and Snooki showing off her Jersey Shore style. Moving on from Snooki to Sookie, Anna Paquin and Stephen Moyer gave us a peek at her True Blood baby bump at the premiere of their hit HBO show. Pregnant actress Neve Campbell was spotted at the Coldplay concert, while a very pregnant Kourtney Kardashian is counting down the days — however still managing to look chic!
(page 4 of 5)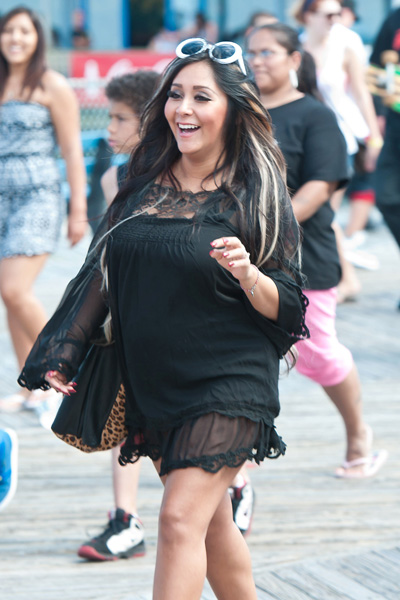 Snooki
Jersey Shore star Nicole 'Snooki' Polizzi was spotted showing off her baby bump in a short black lace dress as she and the gang were filming in Seaside Heights, New Jersey. The 24-year-old announced a few weeks ago that she is having a boy — and she recently revealed her plans for the baby nursery.
"It's gonna be maybe something Disney or safari," she said.
As far as baby names, Snooki told GQ back in November (before she knew the sex) her top four names were Frankie, Jionni Jr., Giana and Isabella — so it sounds like she could possibly be naming him one of the first two names!
Tell us: Do you like the names Frankie or Jionni Jr.?
Next up: Kourtney Kardashian shows off her huge baby bump