Celebrity Baby
Bump Watch
Happy Wednesday Hump Day — also known around here as Celebrity Baby Bump Day! We have rounded up the cutest pregnant celebrities of the week, including Sienna Miller showing off her cool boho baby bump and Snooki showing off her Jersey Shore style. Moving on from Snooki to Sookie, Anna Paquin and Stephen Moyer gave us a peek at her True Blood baby bump at the premiere of their hit HBO show. Pregnant actress Neve Campbell was spotted at the Coldplay concert, while a very pregnant Kourtney Kardashian is counting down the days — however still managing to look chic!
(page 2 of 5)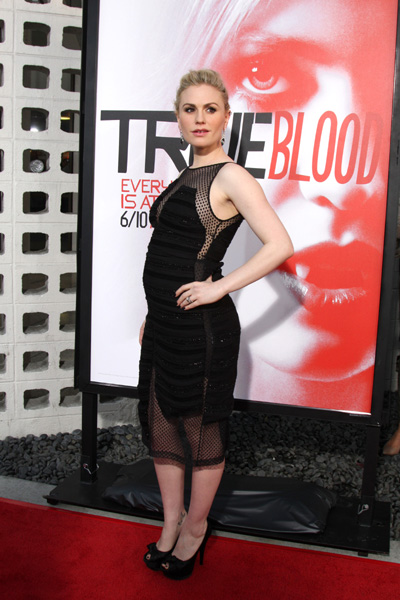 Anna Paquin
Sookie is showing! Pregnant Anna Paquin showed off her growing baby bump in an edgy black dress at the premiere of True Blood. Due in the fall, this is the first baby for Paquin, 29, and her husband/True Blood co-star Stephen Moyer.
How does Moyer feel about being a dad again, as he has two children (Lilac, 10 and Billy, 12) from a previous relationship? "It's always amazing," he gushed. "I love my kids so much. And the fact that Anna is pregnant just adds more crazy to the bundle of fun."
As for Paquin, she is not letting pregnancy slow her down. "I feel fantastic," she told reporters at the event.
Next up: Neve Campbell takes her baby bump to hear Coldplay