Even helicopter moms can learn to let go
Memories of my childhood include plenty of unsupervised time for exploration and adventure. But my children are having a very different experience. Were things really that different when we were kids or is it just parents who've changed? For today's parents, it can be challenging to let go a little.
Adventure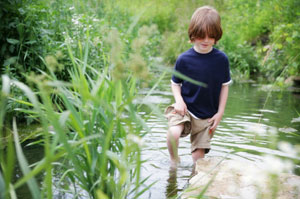 If you crossed the street from my childhood home and wound your way around the elementary school, following the border of the field to the northeast corner, you found the source of great summer happiness.
We always arrived prepared, with empty glass mayonnaise jars, reserved just for this purpose. We would quickly shed our sneakers, roll up our pant legs and make our way over increasingly soggy land until we reached the edge of the swampy stream, feeling the muddy ground squish between our toes.
Anticipation
There, at the water's edge, bursting with anticipation, we carefully waded in, jars in hand. We knew exactly where to find what we were looking for — pollywogs.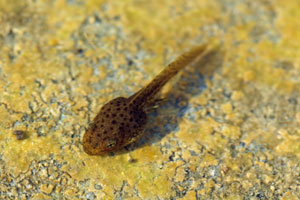 Gently, we would immerse our jars in the water and capture them, in awe of their tiny translucent bodies, and quickly screwed on the covers complete with air holes.
Pollywogs are amazing little creatures and we would watch them for hours there on the edge of the swampy land. There was something about those not-yet-frogs that delighted our 7-year-old selves.
I am so grateful for those lazy afternoons spent watching our catch. Those memories there on the soggy grass are some of the most vivid from my childhood summers.
Retrospection
One of the most amazing things about being a parent is the intense desire to see your children experience the same things you did as a child.
Yet, this suburban, overprotective, borderline-helicopter mom shivers at the thought of my children having this same experience.
There's an area not far from our home that catches my attention every time I see it. It simply screams "perfect pollywog catching site."
But every time I filter my own childhood experience through my adult mind, it's flooded with words like unsupervised, dangerous, bacteria and drowning.
On a recent walk, I shared my story with my husband and he told me a handful of his own — stories of being a kid, exploring the world without parents nearby, controlling and sanitizing everything.
We were both struck by the paradox between just how much we cherish those memories and how much we fear for our children venturing out on their own that way.
I came home and Googled pollywogs and was surprised to see that you can order them online. They arrive with their entire habitat and everything that you'll need to care for them throughout their life cycle.
I sat there, staring at the computer, struggling to decide how I felt about that. There, before me was a way that I could share that fascinating experience with my kids, yet somehow it just isn't the same. The anticipation, adventure and exploration are all removed from the experience it seems.
I'm not sure what the answer is here. Did our parents know something that we don't or are things just different now?
"One day, I want them to look back and have their own adventures and memories to share with their children."
Though I won't be sending our kids off to play in any swampy water, it does make me wonder if perhaps I need to find a way to let go just a little bit.
One day, I want them to look back and have their own adventures and memories to share with their children.
What childhood adventures did you have that your children haven't experienced? I can't be the only one who struggles with this.
More on childhood adventures
What I'm loving this week: 5 Things to do in the dirt
Top 21 summer camps in the U.S.
Everything I know about life I learned riding a bike: How to teach your kids essential life lessons