Why I hit the road last winter with my family
Maile Smucker, 33, a stay-at-home mom with four kids (ages 2, 4, 7 and 8) and her freelance writer husband, Shawn, 35, decided to hit the road last winter for a cross-country adventure and mobile homeschooling. They put their belongings in storage, borrowed an RV from a family member and settled into their new 400-square-foot living quarters.
"My mom story"
Maile Smucker
as told to Julie Weingarden Dubin
Hard times
In 2008, my husband Shawn's painting business began to flounder after the housing market crashed. By the summer of 2009, the business was virtually dead and we were $60,000 in debt. We had to give our house back to the bank, leave our friends in Virginia and move our family of six into my in-laws' basement in Lancaster, Pennsylvania. We hit rock bottom, financially.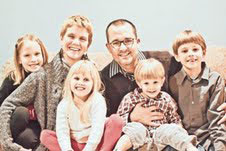 In a moment of clarity, we decided that Shawn should pursue his dream of writing. So in October of 2009, Shawn began the long and treacherous road of becoming a freelance writer and he wrote an e-book, Building a Life Out of Words, which describes our dark period when we lost almost everything.
Over the next two years, we moved out of my in-laws basement, began paying off our debt and scraped by with the money Shawn made from writing projects. At the same time we decided to live life more intentionally, pursing our dreams now instead of putting them off. We were going to make our dream of seeing the country come true by traveling in a borrowed RV.
Life in an RV
I was excited to hit the road but I'd often wake up in the middle of the night in a complete panic. I worried about the safety of our children driving in a house on wheels and spending nights at truck stops.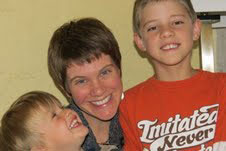 During our journey, I blog and teach our kids. We've homeschooled for the past three years, which definitely made taking this trip a lot more feasible for our family. Our budget didn't allow us to eat out much. We'd eat raw fruit and veggies and handfuls of cheese for lunch, and dinner was usually a one-dish wonder like soup or pasta.
At first the tight living space was overwhelming with toys, pajamas and books littered across the floor. Personal space was non-existent, and I felt claustrophobic, nervous and frustrated. But deep in my heart I felt I had to press forward. I didn't even consider going home as an option. I knew that as hard as it was to wake up in a new location every couple of days and engage with my children from the moment my eyes opened to the moment they closed each night with few opportunities of peace and quiet, or to stay calm when the RV got stuck in a ditch or the brakes went out on top of a mountain, the experiences were all life-changing opportunities for growth. The trip proved to me that when you persevere and push forward, you get stronger.
Heading home
Hey, Moms: Do you know a mother with a great story? We're looking for Mom Stories. Email Jrosewriter@gmail.com with your suggestions.
The best part about this experience has been the memories we've made as a family. We've shared many hilarious and fun times and we got to show our kids that the world is so much bigger than their backyard or hometown. I loved seeing my kids catching their breath in awe at their first look at the Grand Canyon and gazing wide-eyed out the windows at the wildlife bursting in every crevice of Yellowstone — what a gift.
We'll end this trip as very different people and with a chance to make some new choices for our family. I'm trying to be more selective about which dreams I pursue in order to be the best guide for my children, and I hope that through my choices, I can contribute four loving, compassionate and intelligent adults to the world.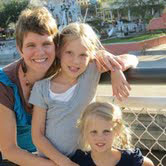 Our journey is just about over and we're going back to Lancaster. Now, 2-1/2 years later, after Shawn lost his business, he's still pursuing his dream. Shawn will continue to freelance and I'll homeschool the kids. It's a path paved with both uncertainty and deep satisfaction.
Today, we look back on his failed painting business as one of the biggest blessings of our life; without that devastation, this new life of excitement and fulfillment would have never been birthed.
Mom wisdom
I went through two years of dark times and when I finally saw my limits and went to a counselor, it changed my life giving me hope, healing and purpose. I think a lot of moms feel stuck — lonely, sad and uninspired — but they don't want others to know. Get help. Talk to a friend or professional and start dealing with all those things that are holding you back from truly living.
Read more on "Mom Stories" and family finances
Mom story: I was homeless with three young kids
Mom story: My crafting saved us
Should you tell your kids about family finances?