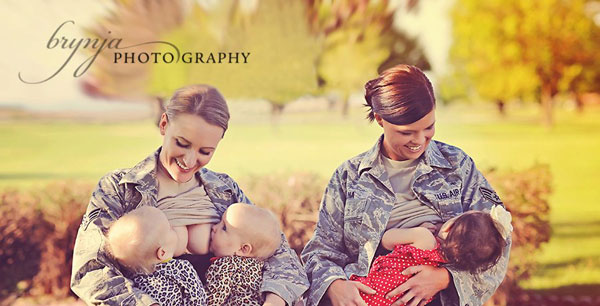 Nursing photos cause unusual fury
A photo of two military moms breastfeeding their babies has stirred up a breastfeeding controversy like no other. Is breastfeeding in military uniform bad form, or is a big deal being made out of an amazingly sweet picture for nothing?
A photo of two happy mothers nursing their children can sometimes be reason enough to create controversy, but if the moms are in military uniform then it creates a whole new level of response. In what is a local campaign run by a military mom to promote breastfeeding awareness (Mom2Mom of Fairchild Air Force Base), the photo has suddenly been launched into the national eye. Is it appropriate to nurse your baby while wearing a military uniform?
The campaign
Started by Crystal Scott, mother of three and a military wife, Mom2Mom created a series of photos to create breastfeeding support and awareness. The photos are touching, beautiful and amazing, but the photo of two moms nursing their little ones while wearing their military uniforms has struck a nerve. Public displays of affection are not allowed while wearing military uniforms (neither are talking on a cell phone while walking nor carrrying an umbrella that's not black, among other things), but breastfeeding isn't addressed specifically.
"I'm proud to be wearing a uniform while breastfeeding"
The photo features Terran Echegoyen-McCabe, a member of the Air National Guard, nursing her 10-month-old twins, and Christina Luna, nursing her daughter. Echegoyen-McCabe has been surprised by the swift and negative response to the photos. She said, "I'm proud to be wearing a uniform while breastfeeding. I'm proud of the photo and I hope it encourages other women to know they can breastfeed whether they're active duty, guard or civilian."
Not cool
Many people have felt that this photo is inappropriate on many levels. A user commenting on Yahoo!'s article stated, "The issue at hand is that they are doing it in uniform and in public! Those not in the military do not know or understand. These women were wrong in taking this picture for others to see."
Another user, Todd, agreed. "Being former military, I find this disrespectful to the uniform they wear — however, that is my opinion," he shared. And Cricket, mom of four and a staunch supporter of breastfeeding, could tell where the outrage may stem from. "I can still see how it would be an issue," she shared. "I'm all for breastfeeding but when you sign those papers to enlist, you become government property. You have just given them the right to tell you what to do or not to do, any and everything. Including wether [sic] or not to breastfeed in uniform."
Get over it
Others felt the outrage was misplaced and in some instances, silly. "I question the morality of letting a child go hungry because of what you're wearing," stated Melissa from Texas. "Neither a silk blouse nor a uniform define what you do as a mother. Can a father not parent his young while in uniform?"
Barbara, mom of four kids, was of the same mindset. "Oh, so now the sacrilegious issue of the day is wearing a military uniform while breastfeeding your baby," she shared. "I guess the bodily function police forgot to have a problem with guys who whip out their penises to urinate on the battlefield." Lisa, mother of one, concurred. "It gets very tiresome having to weed through nonsense like this to get to actual news," she explained. "When are people going to get over breasts being used to feed children and focus on real issues?"
Good intentions
Regardless of what public opinion is, the photo represents two moms working for our country and feeding their children naturally. They are happy, relaxed and content, and their little ones are well-loved and nourished. It remains to be seen if the military will create a new rule on breastfeeding in uniform, but it can be hoped that breastfeeding awareness has been raised by the picture gaining attention in the public eye.
Tell us
Do you think this photo crosses the line? Or is it a good thing to see military moms nursing?
Image credit: Brynja Sigurdardottir Photography (Facebook | Website)
More on breastfeeding
Whoopi thinks breastfeeding help is lame
Kicked off a plane for breastfeeding
Target facing nurse-in after alleged harrassment of breastfeeding customer