Fun And Easy Crafts
Just For Dad
Skip the hats, ties and boxers this Father's Day and make Dad a special gift he can cherish forever. These fun, easy and interactive gifts help bring out your child's creativity and make great keepsake gifts.
Dad's tool box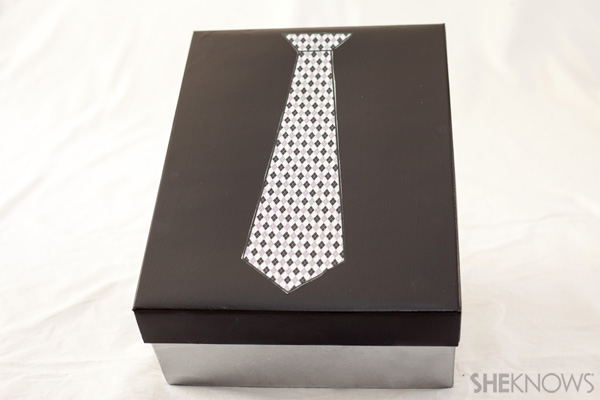 Your kids will love creating this special handmade and practical gift for Dad — and you will love this gift because it will help keep Dad organized.
What you'll need:
Cardboard shoe box
Tie print out
Black and silver spray paints
Foam brush
Mod Podge
What you'll do:
Remove the lid from the shoe box and spray the lid and the box black and silver, respectively.
While your paint is drying, print and cut out a tie shape for the top of the box.
Once your box is completely dry, use a thin layer of Mod Podge to adhere the tie to the lid.
Completely cover the lid and the tie image with a thin layer of Mod Podge.
Allow to dry completely. Repeat with other graphics on box sides if you wish, such as his favorite sports team's logo.
Fill the box with some old or new tools.
Follow in Dad's footsteps picture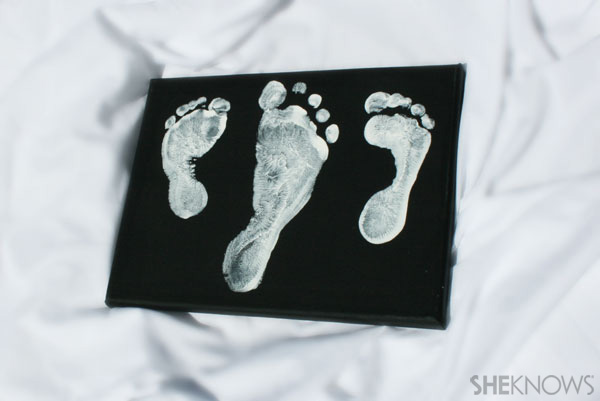 This sentimental gift for Dad is sure to be cherished for years — plus it's simple and modern, and will look great in Dad's office!
What you'll need:
Wrapped canvas
Craft paint
Paintbrush
Cardstock paper
Markers
Tip: You can paint the saying on the canvas with a smaller paintbrush if you have enough space.
What you'll do:
Apply a coat of paint to the bottom of your child's foot with the paintbrush, covering the bottom completely.
With your child sitting down, gently bring the canvas to your child's foot.
Gently press your child's foot and toes against the canvas.
Let dry.
On a piece of cardstock paper, write, "Daddy, I love you and I love following in your footsteps!"
Handprint tile paperweight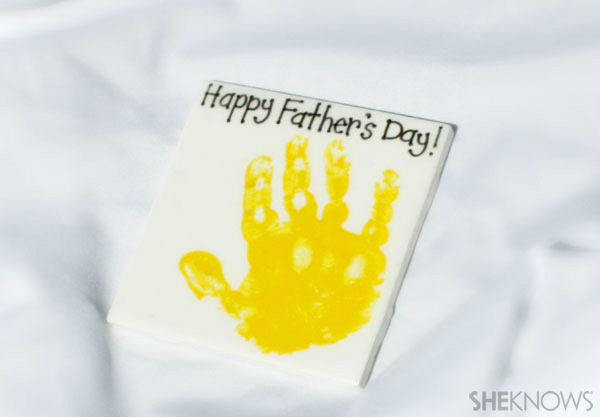 Another practical gift for Dad's office is a tile paperweight, which can also double as a coaster!
What you'll need:
Ceramic tile piece
Craft paint suitable for ceramics
Sharpie pen
Paintbrush
Tip: If your child's hand will not fit on the tile, paint a design or picture!
What you'll do:
With a Sharpie pen, write, "Happy Father's Day!" on the tile.
Apply a coat of paint to the palm of your child's hand with the paintbrush, covering it completely and then press hand to ceramic tile carefully.
Let dry 48 hours.
After 48 hours, place your tiles in a stoneware baking pan.
Before turning your oven on, place your tiles in the oven.
Heat your oven to 325 degrees F, then bake for 30 minutes.
Remove the tiles from the oven and cool completely before handling.
DAD pictures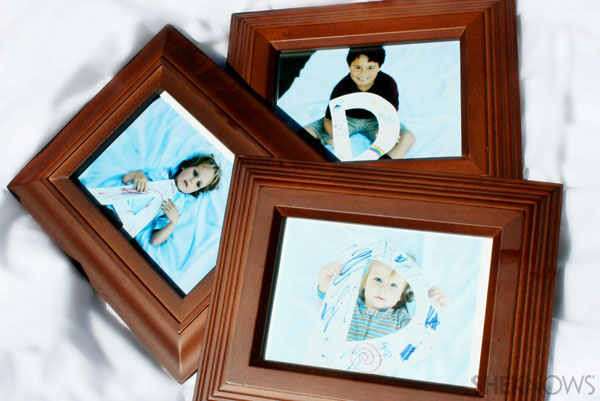 This interactive gift is fun to do with the kids and captures each child's personality.
What you'll need:
Camera
Three pieces of poster board
Pencil
Markers
Scissors
Printer
Photo paper
Gallery frame or three coordinating frames
Tip: If you have one child, do three different poses, if you have two children, double up for the "A" picture and if you have more than three children, get creative!
What you'll do:
With a pencil, draw block letters on the poster board.
With markers, let your kids draw and decorate each block letter.
Carefully cut out the letters.
Have your child(ren) hold each letter and take one picture for each letter.
Print or have the pictures developed.
Insert the pictures into a gallery frame (with three openings) or three separate frames.
More crafts for kids
4 Messy outdoor crafts for kids
5 Spring handprint crafts for kids
5 Fun Popsicle stick crafts