Celebrity Baby
Bump Watch
Happy Wednesday Hump Day, also known as Celebrity Baby Bump Day! What pregnant celebrities caught our eye this week? Anna Paquin and Stephen Moyer's True Blood baby bump is getting bigger! A very-pregnant Reese Witherspoon was glowing and gorgeous at the Cannes Film Festival, while Kourtney Kardashian caught some grief in a maternity romper. Elizabeth Berkley and Melissa Joan Hart round out our list of celebs with cute baby bumps.
(page 3 of 5)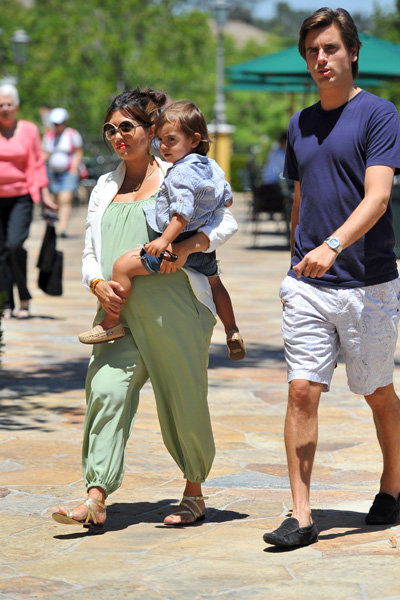 Kourtney Kardashian
Pregnant Kourtney Kardashian wore a mint green romper as she and her baby daddy, Scott Disick, took their 2-year-old son Mason to the park in Calabasas, California. One of Kourtney's twitter followers, however, wasn't too fond of her one-piece outfit.
"Is @KourtneyKardash wearing a green onesie? LOL," tweeted one follower.
"Haha yes! It's amazing," Kourtney quipped back.
Kourtney is expecting a baby girl this time around — and many are wondering if she will keep with the Kardashian tradition of baby girl names that start with the letter K, like her sisters Khloe, Kim, Kendall and Kylie.
"We always have our list that I keep in my phone," she told People about her baby name ideas. "I have my little list of names, and I cross it off one day and a new one comes. We definitely don't have the name. We're going back and forth."
If her son Mason had his way, his new sister would be named Rosie, from his favorite show Caillou.
Next up: Elizabeth Berkley is saved by the baby bump