Celebrity Baby
Bump Watch
Happy Wednesday Hump Day, also known as Celebrity Baby Bump Day! What pregnant celebrities caught our eye this week? Anna Paquin and Stephen Moyer's True Blood baby bump is getting bigger! A very-pregnant Reese Witherspoon was glowing and gorgeous at the Cannes Film Festival, while Kourtney Kardashian caught some grief in a maternity romper. Elizabeth Berkley and Melissa Joan Hart round out our list of celebs with cute baby bumps.
(page 2 of 5)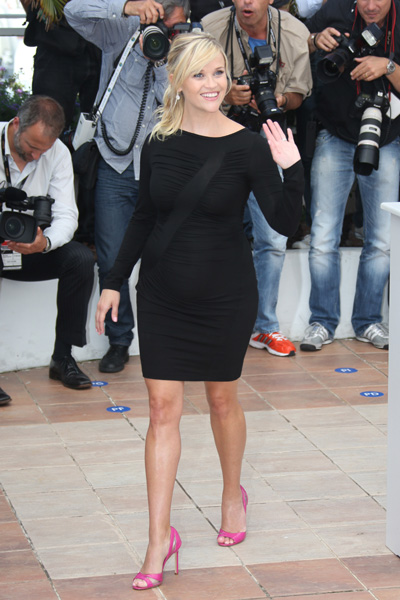 Reese Witherspoon
Have baby bump, will travel! Pregnant Reese Witherspoon looked glowing and gorgeous (even after a 14-hour flight!) as she promoted her new movie, Mud, which co-stars Matthew McConaughey. The actress has been keeping her baby bump under wraps — until now! She wore a black long-sleeved jersey dress paired with dangling diamond earrings and chic bright fuchsia heels.
Some were shocked that Witherspoon made the trip to Cannes, since her role in the Indie flick is a small one.
"Even if her screen time is limited and, bless her heart, I kept her in a motel room most of the time, she still managed to look good," said director Jeff Nichols, on casting Witherspoon. "I needed someone who, when she showed up, it was like, she's here! She had to be believable and stand out at the same time."
Next up: Kourtney Kardashian wears a "green onesie"