Use Built-In Sunscreen This Summer
Sick of trying to plaster sunscreen on wiggly children? Learn why UV-blocking swimwear and clothes are one of the best options for protecting kids from cancer-causing rays.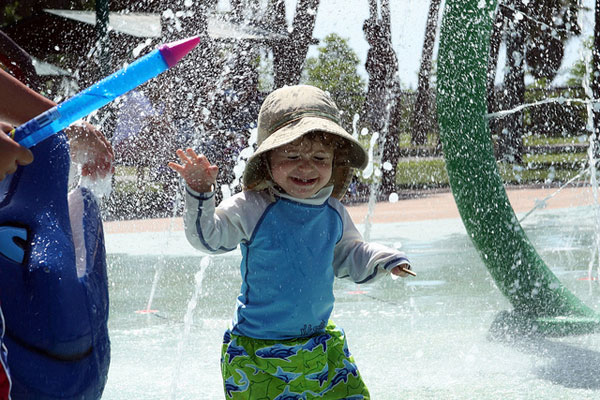 According to the Skin Cancer Foundation, clothing is the most effective form of sun protection. When your kids are playing out in the sun, dress them in clothing made especially for protecting delicate skin from the sun's harmful rays. When choosing sports clothes and swimwear for your children, check for the garment's UPF rating. The FTC explains that the higher the UPF, the higher the protection from UV rays that contribute to skin damage and skin cancer. For the best protection, look for clothing rated UPF 50 and use sunscreen on exposed skin. Check out these stylish options to protect your kids.
Coolibar infant splashy hat

Babies don't have much hair to protect the sensitive skin of the scalp, ears and neck. Cover beach-bound infants in the cute Splashy Hat ($15) from Coolibar. The firm brim and attached neck flap keep little ones shaded while swimming and playing outside. The Splashy Hat is also available in blue stripes and funky swirls. Regardless of your child's age, shop for a hat with a rating of UPF 50 and a wide brim.
Moby UV baby wrap
Thanks to the Moby UV baby wrap ($53), it's possible to wear your baby with UPF 50 protection. The natural cotton fabric breathes enough to keep baby cool while the special fabric protects his brand-new skin from the sun's rays. For parents in warm, sunny climates, this is a babywearing must-have.
More sun safety
How to prevent childrens' sunburns
Sunscreen for kids
Teens and tanning — a dangerous combination