Magazine Cover
Roundup
We have rounded up our favorite moms (and new moms!) that graced the June magazine covers. It has been quite a month for Biggest Loser trainer Jillian Michaels, who shows off her bod on this month's Women's Health. The trainer not only came out as being gay, but also announced she is a new mom! Michelle Obama takes us into the White House kitchen on Parents, Pink gets sexy on Cosmopolitan, while Debra Messing and Brooke Burke-Charvet round out our list of celebrity mom cover stories.
(page 5 of 5)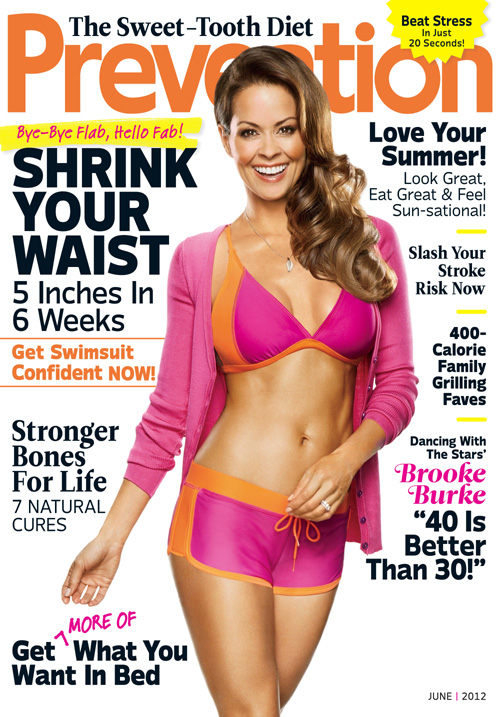 Brooke Burke-Charvet
Dancing with the Stars host Brooke Burke-Charvet turned 40 last year, but looks a full decade younger! The mom of four shared her anti-aging secrets and even shared that she has considered having her breast implants re-done.
"I have," says Brooke, who was married to famed Beverly Hills plastic surgeon Dr. Garth Fisher. "When you've breastfed four children, things kind of change. So that's probably the most likely thing on the radar. I went through a phase where I wanted to have smaller breasts. Sometimes it's easier in dresses and gowns."
She also says she does little things along the way to help her keep her youthful look. "I've done little bits of Botox for a long time. If I wasn't on TV, I probably wouldn't. Fillers at a minimal level are OK, but it scares me because I don't want to have that bloated look. In our industry, people do too much too soon or just too much. There's nothing worse than that frozen 'I'm 40 but I want to look 25' look."
From Mariah Carey's baby-weight loss to Mariska Hargitay's adoption struggles, check out more celebrity mom covers here >>
Photo credit: Prevention