Why I work to help those in crisis
Claire Bonilla, a mom of three kids ages 5, 9 and 13, in Redmond, Washington, is prepared to drop everything at a moment's notice when a natural disaster strikes. The senior director of Microsoft's disaster response program coordinates emergency tech solutions — such as real-time communication and mapping software — for areas hit by natural disasters. Claire has helped coordinate more than 170 worldwide response efforts. Claire reveals to SheKnows how she balances the demands of her career and family.
"My mom story"
by Claire Bonilla
as told to Julie Weingarden Dubin
I'm driven to reduce global catastrophes. I've been leading Microsoft's disaster response for six years. I love that my job merges my two passions — humanitarian work and information technology. The amount of natural disasters around the world can be overwhelming but I work to find the best way to focus our efforts and technology to help as many people as possible in need.
Whether there's a flood, hurricane or earthquake, moving in quickly with technology can save lives. I don't travel to every disaster — I rely heavily on technology to respond to disasters remotely. My job is to assemble a global virtual team to reach out to Microsoft staff (we have employees in more than 166 countries) in the impacted area and offer immediate assistance to local governments and aid groups. As a mom, this job appeals to my humanitarian and nurturing side, while allowing my coordination skills to come into play.
Balancing career and kids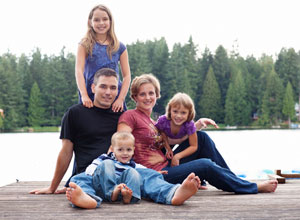 I learned when my kids were young that I couldn't do it all. I focused on the things I did accomplish with my kids and in my job and learned to forgive myself for the thousands [of things] that I never got to. I've trained myself to ask for help and I can lean on my husband, Kevin, a physical therapy assistant, who is incredibly supportive.
Disasters are intense — 18-hour days at all hours since we collaborate worldwide, seven days a week, pulling the best resources from all around the world to solve the most complex problems a specific country is facing. The first week is the hardest and then the engines are in motion. I always ensure when we wind down that I recoup the time for being with my family. I'll take days off to make up for the extra hours so I regain that balance and avoid frustration and fatigue.
During a disaster I'm 110 percent committed and my kids and husband pick up the slack at home. On regular days, after 5 p.m. and on weekends, I'm 110 percent tuned into my family. If my work has issues with my boundaries, it's not the right job for me.
Family fun and life lessons
When I'm with my family we play games, hang out around a fire, bike, swim or just cuddle together and watch a movie or read a suspenseful book aloud to each other.
Hey, Moms: Do you know a mother with a great story? We're looking for Mom Stories. Email Jrosewriter@gmail.com with your suggestions.
My kids think my tech equipment is cool — they call it mom's spy gear. They also admire the impact our work has — they learn about devastation and destruction through the media.
Though my career sometimes takes me away from my kids, I appreciate being a role model for them and seeing how they want to help people, too. After trips I always share pictures and stories with my children, and often my kids will raise money in our neighborhood for children impacted by a catastrophic event.
Heart and hope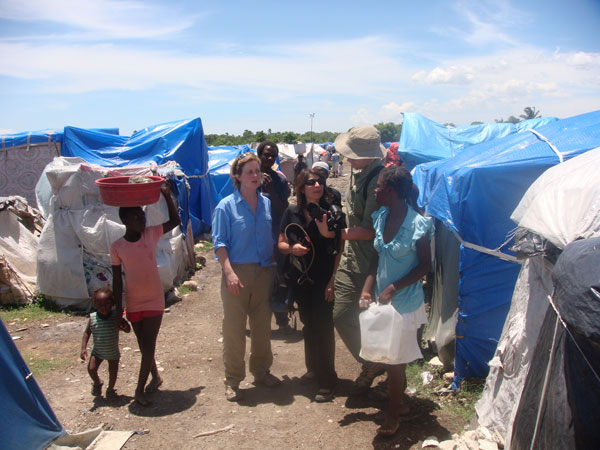 When I'm managing disasters from the ground, there are always images I can't get out of my mind. I think about Haiti, Galveston and Myanmar, where worlds were turned inside out and societies normally segregated by "haves and have-nots" are huddled together. But most of all, I think about the impacted children. I wish I could take each child home with me and give them a warm room and a soft bed, three meals a day or even just a pair of shoes.
Knowing I'm making a difference in someone's life when they need it most is rewarding. The biggest challenge in my job is that there's so much need and I have finite time and resources, so I have to ensure I invest them where they count. It's a lot like motherhood — both roles require being good at bounding chaos, with a strong dose of compassion and hope.
Mom wisdom
Know your three core values — the three things you need to thrive, and try to stay aligned with them. Mine are family, growth and accountability and I'm unhappy if any are compromised. Take care of yourself — and your core — and the rest will follow.
Read more on work and motherhood
Mom story: I'm CEO of a tech company
Balancing work and motherhood
Mom story: I'm an NFL cheerleader