Beat Morning Sickness The Natural Way
Spending too much time with your head in the toilet bowl? Pregnancy is a miraculous time, but the first few months can feel like a little more than you bargained for with nausea, vomiting and other symptoms of morning sickness. Learn how to treat morning sickness with these healing natural remedies.
Ginger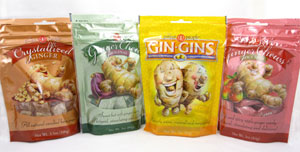 For centuries, women all over the world have been turning to the natural soothing properties of ginger to combat morning sickness. Whether you prefer to eat raw ginger, munch on ginger cookies, drink ginger ale or suck on crystallized ginger candies, chances are this spicy root will help to ease your queasy stomach.
Visit The Ginger People for a wide variety of top-quality ginger candies and other natural ginger products.
Peppermint
If ginger isn't your thing, consider using peppermint to ease your morning sickness. Proven as a safe and effective remedy for nausea associated with pregnancy, you can suck on peppermint candies, chew peppermint gum, drink peppermint tea or simply use peppermint essential oils around your home.
Try a steamy hot cup of this tasty peppermint tea from Traditional Medicinals.
Acupressure wrist bands
Traditional Chinese medicine offers timeless wisdom for those suffering from morning sickness. Originally designed to ward off sea sickness, these wrist bands put pressure on the pericardium 6 acupressure point which can do wonders to reduce or eliminate nausea during pregnancy.
Try a pair of Sea-Bands for fast and effective morning sickness relief with no side effects for Mom or Baby.
Vitamin B6
Boost your daily intake of vitamin B6 to naturally curb pregnancy nausea. Many clinical trials have demonstrated the efficacy of this simple remedy. Be sure to check with your obstetrician for the correct dose for your body.
Beaute de Maman dietary herbal supplement is a unique combination of Vitamin B6, ginger, lime and vitamin D specifically designed to alleviate morning sickness.
Protein
Dips in blood sugar can have a dramatic effect on pregnancy nausea. Make sure to keep a little something in your stomach at all times to keep morning sickness at bay. Rather than snacking on empty carbs like dry crackers that are often recommended to pregnant moms, try boosting your protein intake to keep your blood sugar from taking a roller coaster ride. If you like crackers, pair them with cheese or natural peanut butter. Other good high protein snacks include boiled eggs, all natural protein bars, edamame, trail mix, beef jerky and Greek yogurt.
Find a wide variety of delicious and healthy protein packed snacks at KIND Healthy Snacks.
Homeopathy
There are a number of excellent homeopathic remedies that can help to settle your stomach during pregnancy. Nux vomica, ipecacuanha, colchicum, sepia, lacticum acidum, pulsatilla and tabacum are just a few of the remedies that are commonly used to combat pregnancy nausea.
Typically available through your local natural grocer, Boiron sells a wide variety of homeopathic medicines recommended for all your pregnancy needs. Check with your local homeopath to find the right remedy for you.
More on healthy pregnancy
Top 8 signs you are pregnant
Healthy pregnancy: Can you have one in your 40s?
Does morning sickness lead to smarter babies?