Summertime Family Fun
School's out and the temperature's rising -- it's summertime! Get your family in the summertime spirit by planning a fun celebration. We have the hottest (and coolest!) ideas for ringing in the sunniest time of year as a family.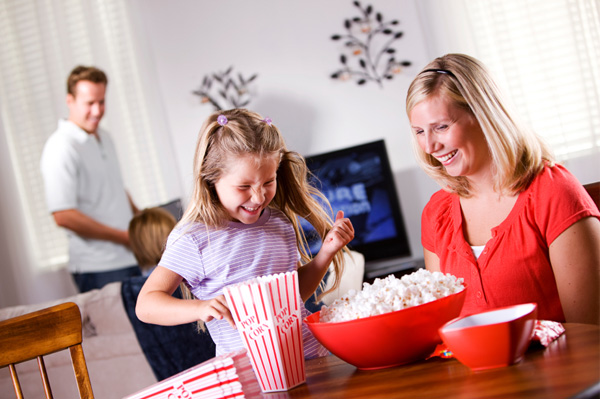 Backyard BBQ
Nothing says summer like the smell of a backyard BBQ. Whether your family prefers cheeseburgers and hotdogs or barbeque chicken and corn-on-the-cob, summer is the perfect excuse for savoring delicious flavors outdoors. Don't forget the side dishes -- coleslaw and fruit salad are simple summertime favorites. Invest in a few mesh food covers to keep the flies away too. For dessert, opt for a sundae bar or serve good ol'-fashioned apple pie. What are you waiting for? Fire up the grill and get your BBQ on!
S'mores under the stars
Welcome summer with a family camping adventure in the great outdoors -- or in the comfort of your very own backyard! Pitch a tent, set up your sleeping bags and get comfy. Set up a fire pit outside your tent for the family to gather around at night. A fire is the perfect setting for ghost stories, silly songs and the ultimate summer dessert: s'mores! For the ultimate finale, hold a family talent show before lights out.
Wet 'n wild
When summer beckons, you have one simple solution to staying cool -- get wet! To celebrate the end of the school year, embark on an excursion to your local water park for super-cool family fun. Or bring the water park to your backyard and get competitive. Break your family into two teams and keep score during water balloon tosses, water gun fights and water relays. Keep some cool treats on hand in your cooler -- the winning team gets the first pick!
Beach blanket bingo
Even if you don't live near a beach, you can still welcome summer with a beach-themed family party. Set up tiki torches in your backyard, and fill up a small kiddie pool with sand for a family sand castle-building contest. Pick up some sand toys and Frisbees to keep the whole family entertained. Set the mood with beachy tunes from The Beach Boys, and don't forget to set up a sunscreen station for this special day at the beach!
Summer movie night
The coolest way to ring in summer with the family is to hold a summer movie night indoors. Set up movie-time favorites, like popcorn and ice cream bars, and get to work! Choose from summertime staples like Grease, The Goonies, The Sandlot, National Lampoon's Vacation, The Parent Trap and Dirty Dancing.
More summertime family fun
6 Tips for summer family fun
6 Family-friendly games for summer parties
Summer traditions for families