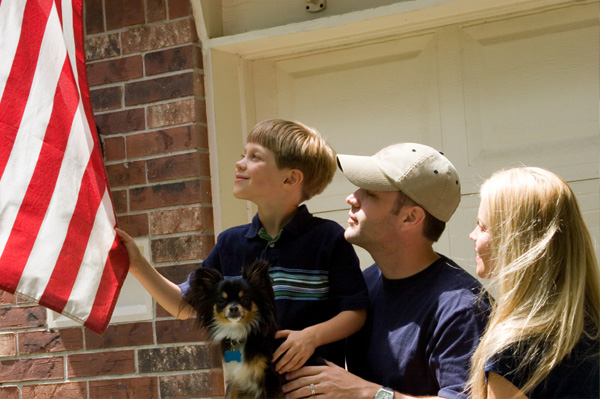 Memorial Day weekend is the unofficial kickoff of summer. It's also a time when family and friends get together for picnics and backyard barbecues. However, this holiday is more than just fun and games.
Celebrating Memorial Day with your family
When celebrating Memorial Day weekend 2013 with your kids, don't forget to teach them about the meaning of the holiday.
What is Memorial Day?
Memorial Day quotes
We have put together a few quotes about patriotism for Memorial Day for you to read and talk about with your kids.
"For love of country they accepted death." — James A. Garfield
"The greatest glory of a free-born people is to transmit the freedom to their children." — William Havard
"The patriot's blood is the seed of freedom's tree." — Thomas Campbell
"We come, not to mourn our dead soldiers but to praise them." — Francis A. Walker
"Although no sculptured marble should rise to their memory, nor engraved stone bear record of their deeds, yet will their remembrance be as lasting as the land they honored." — Daniel Webster
When your kids ask, "What is Memorial Day?" be prepared to give them the proper answer. Originally called Decoration Day, Memorial Day is a day of remembrance for those who have lost their lives in our nation's service. Though some form of Memorial Day has been celebrated in various areas of the country beforehand, Memorial Day was officially proclaimed by General John Logan on May 5, 1868 and was observed later that month on May 30 when flowers were placed on the graves of both Union and Confederate soldiers who were buried at Arlington Cemetery.
Not all fun and games
Though it's great to use Memorial Day weekend as a time to get together and have fun with family and friends, you also shouldn't lose sight of the meaning behind the holiday. Over Memorial Day weekend, in addition to the fun and games at your backyard barbecue, you should also teach your kids about the history of the holiday and take part in community events such as parades and memorials. In the days leading up to Memorial Day, read books and watch movies about our nation's servicemen and women. Contact your parks and recreation department and local library to find out about other community events for families during Memorial Day weekend.
Celebrate and have fun
Though Memorial Day is a day of remembrance, it's also a time to enjoy the company of family and friends, and celebrate our nation's freedom. Deck out your backyard in red, white and blue and invite family, friends, neighbors and co-workers to spend the day celebrating. Here are some great tips for a fabulous Memorial Day party.
No matter what you do with your family on Memorial Day weekend 2013, take time out to remember the meaning and the history of the holiday.
More about Memorial Day for kids
Tips for your Memorial Day weekend family road trip
Memorial Day staycation ideas
4 American flag crafts for Memorial Day
More From SheKnows Explorer