Smooth The Transition
The day you've been looking forward to — or dreading — has arrived. You've been home six weeks or several months after your baby was born, and now it's time to go back. Here are a few hints on how to make the transition back to the workplace as smooth as possible.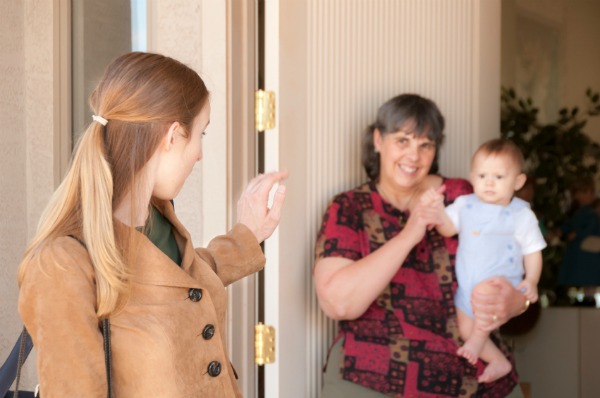 When you were pregnant, work was still important but you had a lot of extras on your mind — your health, the health of your baby, your impending delivery and what plans you were making for your return to work. You probably carefully planned out your maternity leave and left no detail behind, but now that your return to work is imminent, your feelings about going back may be mixed.
Test runs
Take a few test runs before you leave your baby with a sitter or family member. If you've already set up childcare, ask if you can gradually work up to your previously-arranged schedule. For example, the week before you go back to work, leave your baby there for an hour on Monday, two hours on Tuesday, and three hours on Wednesday. It may help you get over your first-day anxiety knowing that your little one is in capable hands, and if your baby is a little older, it can help her adjust to a new caregiver and a new place.
Decorate your space
If you have space that's all your own at your workplace (such as a cubicle or office), bring plenty of photographs and other mementos with you. Try to take time to go in before you're due back and brighten up your space with some new pictures of your little one. Not only can this help cheer you up, but the pictures can actually help you make the most of your pumping sessions if you're breastfeeding. If you don't have a space of your own, attach a picture of your baby to the back of your identification card if you can.
Let yourself feel
On your first day back, don't try to bottle up your emotions. That may result in a firestorm at the end of the day that can leave you feeling spent and exhausted. You likely don't want to cry in front of your co-workers or your boss, so take some private time if you feel teary — and bring extra makeup to reapply if you do cry.
Check in
You may be distracted during your first few weeks back, wondering what your baby's up to and if she's drinking her bottle OK. Your care provider should happily allow you to check in — either on the phone or on a drop-by basis during the day. If you're nursing, and your child is close by, you may be able to arrange to go nurse her during your breaks or lunch hour.
Going back to work may be easy as pie, or it can take some time to adjust. With these few tips in mind, hopefully you can ease back into your working life with few problems and you'll be able to enjoy both life as a mom and as a working gal.
More on being a working mom
Time-saving tips for working moms
What children think about working parents
7 Tricks for balancing work and family