Celebrity Baby
Bump Watch
Happy Wednesday Hump Day — also known around here as Celebrity Baby Bump Day! We are excited to welcome actress Anna Faris into the celebrity mom club. The pregnant actress showed off her itty-bitty bump at the premiere of her new movie, The Dictator. We spotted Drew Barrymore keeping her baby bump covered in a white flowing gown, while Real Housewives of Atlanta star Kim Zolciak wasn't hiding anything in a tight bump-hugging dress. Lastly, pregnant Kourtney Kardashian took time to lounge on the beach in a sexy bikini.
(page 4 of 5)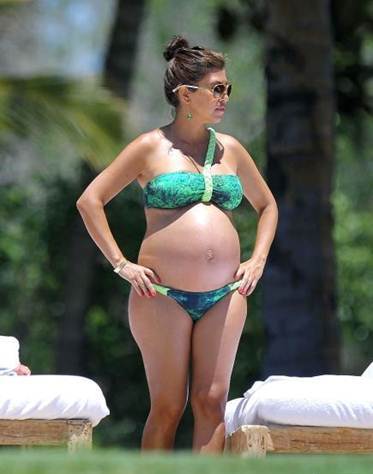 Kourtney Kardashian
Beach babe! Not one to hide her baby bump, Kourtney Kardashian showed off her pregnancy curves in a Cote d'Or Amazonas braid bikini while in Mexico to celebrate her birthday with her family. This gorgeous lime green bathing suit is perfect for pregnant and non-pregnant mamas and you can pick up your own online for $280.
Kourtney's sisters, Kim and Khloe, recently threw her a baby shower in the backyard of their Hidden Hills home. "Kourtney's shower was so nice! Her mom and sisters were there... They talked, laughed, and played games. There was a bar and lots of different types of foods and desserts, including sushi and little sandwiches," a source revealed.
Next up: Alyson Hannigan's huge baby bump