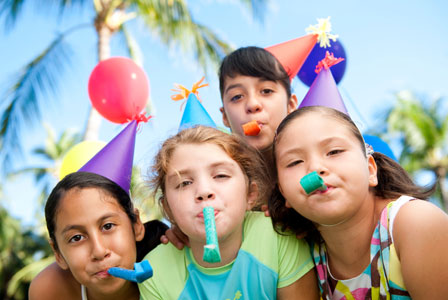 If your child was born in the summer months, you have a lot of options when it comes to how and where to celebrate. If you're looking for some fun birthday party ideas for your summer baby, look no further...
Summer birthday fun for your child
Water works
One way to take advantage of the warm weather for your child's birthday bash is to have some good old fashioned backyard water fun. Best part? You don't need a swimming pool, just a few fun aquatic activities like a sprinkler and a slip-n-slide. If you're really feeling brave, you can add water balloons into the mix! Bonus? Less mess to clean up inside because the kids will stay outside!
Tip: Don't forget to have sunscreen on hand and provide shaded areas for kids who need a break from the heat.
Make a mess
What kid doesn't love to make a mess and not have to answer to Mom and Dad about it? Yet another benefit to having a summer birthday is being outside. Why not transform your backyard into an arts and crafts area and let the kids bring out their inner Jackson Pollock? Who knew making a mess could be so much fun? (The kids, that's who!) 
Tip: On the invitations, suggest that the children dress in their "painting" clothes so you don't have to worry about providing smocks.
Ice cream party
Summer and ice cream are the perfect combination. So for your child's warm-weather party, we suggest taking it up a notch and making ice cream the star of the soiree (not to outshine your little one, of course). Find an ice cream cone pinata. Locate some fun ice cream hats. Set up a sundae station that includes everything from whipped cream to fun toppings like crumbled Oreo cookies. And don't forget to include the cherry on top. The kids can even take turns helping serve the treats. For the health conscious, you can provide toppings like granola and fruit. And for that matter, you can offer frozen yogurt as an ice cream substitute. Tip: Provide water for the kids to drink because the ice cream will make them thirsty.
Planning tips
Whether you're throwing your party in June or December, there are some important things to keep in mind when planning your child's birthday bash:
Throw a cost effective kid's birthday party
More children's birthday party ideas
Birthday party etiquette
New twists on familiar birthday party themes
Choosing a birthday party theme