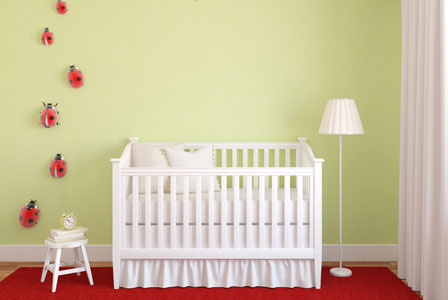 If you waited until delivery to find out if your baby was a boy or a girl, you likely have a nursery that lacks any distinctly girly or boyish touches.
Adding boy or girl touches
Read on for some ideas on how to add some accents to the room without altering the room's overall design.
Now that you've brought your baby girl or boy home, you may yearn to add a few feminine or masculine decorative touches to your gender-neutral nursery. You likely don't want to do a major overhaul -- after all, gender-neutral nurseries are just as awesome as gender-specific ones -- but there are a few ways to add a little "boy" or "girl" to your baby's bedroom.
More ideas
There are even more ways to adjust your baby's room to match her a little better. Install a hanging hair bow rack, for example, or display your favorite girly outfit on the outside of her dresser. Rotate it every week if you desire -- it can keep the design of the room fresh and fun. If you have a boy, hang up a pegboard for a few baseball hats that he can wear when he gets older.
Just because your nursery is gender neutral, it doesn't mean it will always have to be that way. As your baby grows, he will naturally add to the decor of the room himself, so you can just sit back and watch the room take on his personality.
More on nursery decor
Decorating a gender-neutral nursery
Trends in girl nurseries
Trends in boy nurseries