Travel time for the summer!
It's that time of the year -- summer vacation! It's one of the most popular times of the year for families to take vacations together. Where will you go this summer? I've already got my fave five places picked out for our family!
School is almost out!
The weather is getting warmer!
And the pools and beaches are opening up left and right again!
You know what that means, right?
It's (almost) summertime!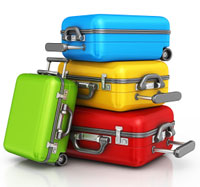 The one thing that my mom friends and I seem to be talking about at school pick-up each afternoon is where we're going to go on vacation this summer. It's that one thing that we're all thinking about, but none of us has chosen that spot yet. Since we all live on the East Coast, we're more prone to stay on the East Coast, but this summer, I'm thinking broader!
I've been scouring travel sites and travel blogs over the last couple of weeks looking for a true gem to travel to this summer. Believe it or not, a lot of "gems" seem to be pretty close to where I live (which is a bonus!). It's been fun reading about different destinations and places throughout the U.S., and it's getting me so excited to choose an extra special spot for us.
I wanted to share five summer travel destinations this week that could work very well for you and your family this summer. It's important to find that special place where everyone will have fun. I'm so used to planning trips around having babies, so this summer will be different. My youngest is now four years old, so it's a true summer vacation with the kids (no babies, which is kind of bittersweet!).
So what made my list?
Here are my picks:
Fisherman's Wharf is a place I visited when I was a child during a summer vacation with my own family and I have never forgotten it! San Francisco is such a beautiful place to visit and there are a ton of fun things to do. I also remember driving down "the very wiggly" street when I was a kid. That memory is a great one -- all of us kids in the backseat screaming and my dad laughing! It's just a gorgeous destination with something for everyone. Your kids will have a blast!
If you're looking for a destination to just relax, this is it. Cape Cod is one of the most beautiful places in the world. It's a true New England area with gorgeous beaches, friendly people and fishing/boating galore. This is the kind of place you go, set up a beach chair and just veg out with the kids all day long. Utter relaxation!
I personally feel that one of the best times to visit NYC is in the summer. Now, I know it will be crowded, but you can ensure warm weather and you'll be able to hit so many destinations -- Statue of Liberty, Madison Avenue, Empire State Building, Broadway, Times Square, 9/11 Memorial, Ellis Island, etc. Plus, there's the Jersey Shore a short two hours away. You have the best of both worlds!
My parents would take us to D.C. every summer and I absolutely want to continue the tradition with my own children. It's a learning experience but also such a gorgeous destination. Spend two to three days sightseeing, and then branch out into Virginia and Maryland for the beaches and beautiful towns. It's perfect for your family!
My husband has been here, but I never have. I chose the Grand Canyon because I feel like it's one of those spots everyone should visit in their lifetime, so why not go with your family. It's one of the most beautiful and natural destinations in the world, and it's just a spectacular sight for kids to see! Perfect summer trip (and for us, road trip!).
More on family travel
Budget family travel
Tips for finding family travel deals
Summer vacation planning tips while on a budget