Being a digital mom
YouTube is the place where most mom bloggers upload their videos before posting them on their blog. But the question is — are your kids in your videos? Are they sharing anything they shouldn't be? You need to be careful what you upload to YouTube.
My children have grown up knowing that I'm a blogger. The best way for me to make them understand "being a blogger" is by explaining to them that "Mommy puts everything online." They're in almost 50 percent of what I do on MomGenerations.com either through my photos, my written blog posts or (mostly) my videos.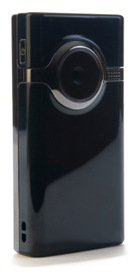 They've now come to the age where they are saying to me, "Can you put this on your blog?" Or, which I have heard from at least three of them, "Mom, please don't put this on your blog!" I respect both wishes. Ironically enough, they love making videos with me for my blog. They absolutely love it. I will actually find my video camera in the living room, and as I go to upload my most recent videos that I've made, I find four or five of them that the boys have made for me. It's adorable and I love that they so want to be involved in what I do.
But… and this is a big but, that being said, not everything that they do will make the YouTube "cut" and then be put on MomGenerations.com.
In order to embed videos into a blog post, you must upload them somewhere, and YouTube is my choice of places to do this. I'm a huge fan of YouTube, but I also tell fellow mom bloggers to please be careful about uploading certain things to YouTube for your blog's usage. There are not always people out there with good intentions, so I wanted to share some digital mom advice and things to consider when it comes to uploading videos of your children to YouTube:
Never allow your child to talk about personal things when making videos like where they go to school, where they go for lessons/practice, what their street address is. You'd be surprised to see how easily and quickly that information comes up and then before you know it, you've shared these intimate details with the world. Be extremely careful not to let these bits of information out onto YouTube.
Whenever I shoot videos with the boys, I always make sure I'm shooting in "neutral" zones. I never shoot footage in their bedrooms that shows the layout and I never shoot videos in our playroom. I like to always be on the cautious side. Shoot videos with the kids in areas that are nondescript, for example up against a wall in your living room, in your backyard, in your kitchen. Stay out of areas that show "too much" about them.
This may seem silly to mention, but I'm very serious. Make sure your child isn't shirtless (for the boys) or in anything too "barely there" (for the girls). In the summer my sons love to run around outside with their bathing suits on, but I won't ever share that kind of footage online. I always make sure they boys are dressed and covered up.
I never allow their friends to be in any videos that I upload to YouTube. My sons will oftentimes want to make funny videos with their friends when they're over for playmates, but that's a line I will never cross. So make sure you're not putting other kids in your videos without asking permission from their parents.
One of the reasons I love putting videos up of the kids is because they're non-scripted. My sons aren't actors, so they don't know what to say, they just say. Whenever we're doing toy reviews or any kind of update/review of something, I always make sure my sons are comfortable with me having them in it. It's something to consider because they aren't always excited about me talking about a toy or a car or a makeup line. So make sure you ask before bringing them into something (especially if it's for you).
More on vlogging
Advice on shooting video with your point-and-shoot camera
5 Ways to become a vlogger
5 Must-have gadgets for 2012